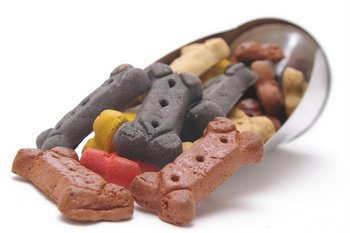 In addition to a recall in early July, Merrick Pet Products recently pulled more of their products from the shelf, the Examiner website reports.
The company told the news provider that although no illnesses have been reported, a sample of the Texas Hold'Em treats tested positive for Salmonella, which could cause serious pet health issues.
"The expanded Merrick recall adds to the growing number of pet food products recalled due to potential salmonella contamination," the site reports, adding that Proctor & Gamble also recently recalled some of its pet foods.
The news provider reports that any dog displaying symptoms of Salmonella after eating the treats,
including lack of appetite, fever, lethargy, diarrhea or vomiting, should be taken to his or her veterinarian immediately for prompt dog health care.
The recalled Beef Filet Squares (Texas Hold 'Em treats) are sold in 10 oz. plastic bags and marked with lot numbers 10084TL7 and 10127 with "Best by" dates of March 24, 2012 and May 6, 2012.
Dog owners who have questions about the recall can contact the Merrick Company at (800) 664-7387 Monday through Friday from 8:00 am to 5:00 pm, Central time.