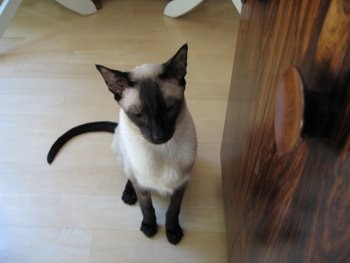 Sharon Kovesdy knows first-hand that it only takes a single experience to change a pet owner's perspective forever.
After the New Yorker lost her beloved cat, "Tiny" to multiple brain tumors and drained her bank account to pay for his medical bills, Kovesdy knew she never wanted to be in a similar situation with her other pets.
"When we lost Tiny last year, I said 'God forbid if something happened to Squeeky,'" Sharon said of her other cat.
"How do you say to [a pet], 'I can't help you; I don't have the money?'" Kovesdy lamented. "I never wanted to be put in that position again."
Less than six months after purchasing a pet insurance policy for Squeeky with Pets Best Insurance, Kovesdy said her 10-year-old Siamese became very sick.
Sharon said Squeeky developed a series of major pet health problems including inflammatory bowel disease, pancreatitis, helicobacter and chronic cholangitis— which are all treatable with medication that Squeeky will have to take for the rest of his life.
"To be faced with thousands of dollars trying to treat something you love, versus not doing it, is a decision you don't want to have to make," she said.
With financial help from Pets Best Insurance, Kovesdy is able to afford the treatment her beloved Squeeky needs.
"Terrible catastrophes can happen," Kovesdy said. But with pet insurance, "the stress of having to find cash put away somewhere is eliminated."
Kovesdy calls Pets Best Insurance "the angels on my shoulder."
"My feelings are very strong that way," she said adding that she now can't fathom the idea of not having a pet care insurance plan.
I can't believe that people wouldn't consider health insurance for cats or dogs," she said.
"Your company has just been outstanding. The kindness that your people have shown to us… so compassionate, so understanding," Kovesdy said.
"Your staff has been incredible, really and truly."
For more information on pet insurance, visit www.petsbest.com