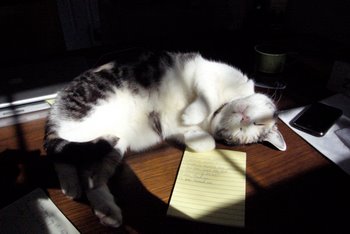 Joy Lee, of Los Angeles, CA, said she couldn't imagine the kind of stress she would have endured if she hadn't had pet health insurance after finding out her beloved kitty, Knitting G, had a serious heart condition.
"It would have been a lot of financial distress," Lee said of the costly medication and regular check-ups Knitting G (who's named after a Korean rice dish) now requires.
"Other people in similar situations have had to put their pets down," Lee said, acknowledging the cost of treatment is often just too high for some people to pay.
Lee, who has had coverage with Pets Best Insurance for the past three years, said she initially purchased cat health care policies for each of her three kitties: Knitting G, Papillon and Sharif, after moving to a new home.
"When we bought our house there was no way to keep them fully inside so I was worried about other animals they might encounter in our backyard," she said. "I just wanted to make sure that if anything came up I wouldn't have to stress out about it."
Lee calls the coverage through Pets Best Insurance "awesome."
"First of all, when I researched all the [pet insurance providers] there were several that wouldn't take Knitting G because of her age," Lee said. "It seemed like Pets Best was much more comprehensive."
About six months into her pet health coverage, Lee said her veterinarian, Dr. Krista Schanbel of VCA Arden Animal Hospital, discovered arrhythmia in Knitting G and referred Lee and her feline friend to a cat health specialist.
Lee said the "kitty cardiologist," Dr. Cathy "Cat" Williams of Animal Surgery and Emergency Center, (ASEC) confirmed the heart condition.
"Now she gets specially compounded medication," Lee said. "She has to go to the cardiologist every six months."
Lee said the veterinarian bill would be between $600 or $700 for the office visit alone if she didn't have pet care insurance with Pets Best. But because of the company's 80% flat rate reimbursement amount, her out-of-pocket expenses aren't so daunting.
"Her medication alone is $70 a month, plus taking her to a really great vet hospital with a specialist could really add up," Lee said. "But since I've had Pets Best Insurance it's allowed me to treat her and make sure everything is covered."
Lee said she calculated that she's saved thousands of dollars in pet bills for Knitting G alone.
"With her cardiology [expenses] her insurance has paid for itself," Lee said of her pet insurance coverage.
"You care about them, you know, you don't want to see them suffer," she said. "Knitting G has been a really important part of my life."
"I may be her human, but she is my angel."