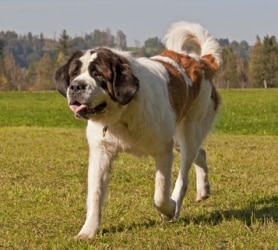 Coleen Ellis, from the Two Hearts Pet Loss Center, is a Guest Blogger for Pets Best Insurance
In a previous blog, we talked about those elements that would make for a memorable ceremony to honor a pet and the life that was shared together.  Let's talk about some very interesting things that other people have been doing as they celebrate the life they shared with their special furry friend.
It was an honor to assist the Rock family as they remembered their St. Bernard, Cherokee.  She was, as they called her, their first born, the only "daughter" and big sister to Forrest.  Not only did the entire family love Cherokee with all of their hearts but the neighborhood and friends from miles away loved the big St. Bernard too.
Therefore, when she died, not only did the family want to have something to honor Cherokee but the neighborhood cherished the opportunity to come together to celebrate her.  Friends flew in from states away, drove in from miles away, and showed up from blocks away; all to be a part of an event to talk about what Cherokee meant to them.
The ritual started weeks before the actual Friday night service.  Forrest wanted to do something to honor Cherokee so he started a drive to collect items for the local Humane Society.  He took a large dog bed to school where all of the teachers gave him the opportunity to talk to the other classes about Cherokee and his fund raising drive.  What a fabulous teachable moment for a child!
When the Friday night service came, the house was full of love and the sharing of memories.  All of the guests brought items for Forrest's fund raiser.  Guests were asked to record a favorite memory of Cherokee so that Heather could add them to her scrapbook.  The guests also enjoyed those "human foods" that were favorites of Cherokees, deviled eggs, tasty mix, cupcakes, and hot dogs.
—
Please note, pet insurance does not cover these activities, however Pets Best Insurance feels these ideas are important to share to help during the difficult time of losing a pet.

Or Call 877-738-7237 to Add a Pet to Your Current Policy