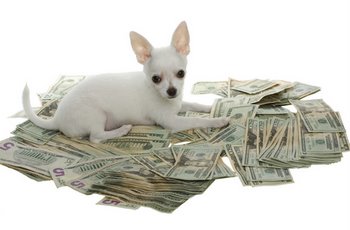 Anyone who has owned a dog or cat understands vet bills can be pretty hefty. Between routine check-ups, vaccinations and tests, the costs can really add up.
When an emergency arises, however, the prices of testing and treatment become incredible— sometimes reaching the thousands! When it comes to handling the costs of the unknown future, it is important to weigh whether pet insurance policies or putting away savings is best for your dog, and your bank account.
According to an article published on Investopedia.com concerning the economics of pet ownership, "Diagnostic testing can easily top the $1,000 mark and can be as high as $5,000 – this does not include surgical care or long-term treatments and medications." For this reason, saving may not be so practical.
What happens if you have only just begun saving and your pet requires a $5,000 test or surgical procedure? It would seem that you would either have to scrape together the money or borrow it—because we all know what when it comes down to it, our pets are worth it. Dog and cat insurance companies make this unknown a much easier bite to chew. In all cases there will certainly be a limit to the amount that will be covered in an emergency. Regardless, if the surgery your pet needs is $5,000, a $7,000 limit will be more than enough—and a $250 deductible is certainly much easier to handle. Visit pets best insurance to learn about plan options.
The other factor to take into consideration is whether pet health insurance will cover prescriptions and tests. Routine care could also be covered under certain policies or packages, which could lighten the blow of vet bills all around. In all cases, it is a great idea to read dog and cat insurance information to understand what coverage is available for a particular company. Saving may seem cost effective in the long run, but when you realize the wide range of services that are included in many policies, you may think twice.