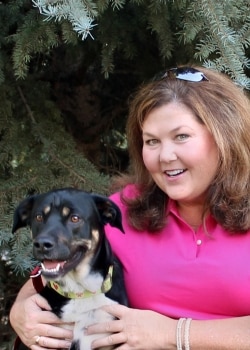 In honor of September being Pet Health Insurance Month, we're featuring stories of real life Pets Best Insurance customers. Today we meet Kathy, and her two year old mixed breed dog, Lola.
When did you get your dog, Lola?
I finally decided it was time to welcome a dog in my life. To give us both the best chance of happiness, I studied breeds and breeders looking for the perfect temperament, size, and lowest health issues.
Then, as life often happens, I met the perfect pup unexpectedly. We met at the Humane Society Gala. There she was, a 3 month old pup turning/leaning towards you for petting, and not pulling on her leash or biting. A user's manual did not exist for this first timer, who didn't know even what breed Lola was or how big she would grow.
When did you decide to get pet insurance?
The Humane Society provided a 3 month policy as part of the adoption from another insurance company. I went through multiple claims with them, including food allergies, kennel cough and a yeast infection. The other company was helpful, but the coverage was inconsistent and a hassle. And, sometimes the claims process would take several weeks.
So when/why did you switch to Pets Best Insurance?
I switched to Pets Best after seeing the brochure in my veterinarian's office. Their front desk person told me Pets Best Insurance was easy to work with and had found that it was better for their clients.
What do you love about Pets Best Insurance?
Submitting a claim and getting reimbursed is so easy. I receive detailed emails with clear explanations keeping me informed of the process. Then the magic happens, it's automatically deposited in to my checking account. It's so easy! It makes me happy and comfortable to know I don't need to track the process. Additionally, the reimbursement includes items that the other pet insurance company did not, like pharmaceuticals.
The coverage has more than paid for the premiums and gives me comfort knowing that I can afford to give Lola the best care. I love Pets Best!
Insure your dog with Pets Best Insurance!

Get a Quick, Free Quote Online or Call Pets Best at 877-738-7237