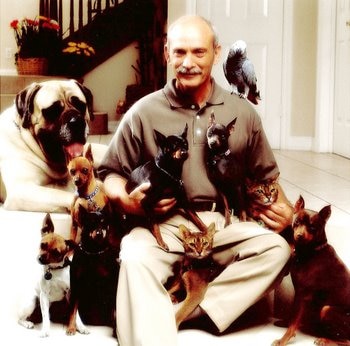 By: Dr. Jack Stephens
Pets Best Insurance President
Last month marked the 30th anniversary of pet health insurance in the United States. October 1980 was the month that I incorporated California Veterinary Services to officially start the process of forming the first company dedicated only to pet health insurance.
Initially fifty veterinarians funded the company at $500 apiece to begin acquiring actuarial data, developing a policy and obtaining state licensing in California. That fifty grew into over 900 veterinarians who invested on average $2,000 each, with most at the minimum investment of $500 to fund the first pet insurance I had founded. Eighteen months later, the company's subsidiary was approved by the state and pet health insurance sales started in the United States.
Previously there had been several other attempts by insurance companies and entrepreneurial efforts to start pet insurance in the United States, but all failed as did many others in the next fifteen years. After all, Sweden and the United Kingdom had successful pet insurance plans, why not in the U.S. where we are passionate about our pets? Today there are a dozen insurance companies offering pet health insurance, two since 1997-98 and the others more recently, including our own Pets Best Insurance, underwritten by Aetna Insurance Company of Connecticut.
Starting pet health insurance and eventually leaving my successful small animal practice to pioneer pet insurance in the United States was not even fathomable when I graduated from Veterinary School or operating my own practice. After all, I had several veterinary practices at the time and had plans, even the lot to build the first luxury boarding facility; I had named the Pet Regency Hotel.
But a small, white mixed breed dog named Buffy changed my life, putting my practices on hold and abandoning my luxury boarding facility. And even more importantly this dog's fate eventually changed the entire history of pet health insurance in the U.S.—from one of successive failures to a huge success.
Pet insurance has saved countless millions of pets from euthanasia or not receiving needed care due to finances. My defining moment was a few weeks after I had examined Buffy for a serious and acute illness where the owner elected euthanasia instead of allowing me to diagnose and treat Buffy. I remember it as if it was yesterday; my wife and I were walking down the aisle of the local Ralphs grocery store near my practice when we met the client and her daughter who had previously been in my office with Buffy. Upon meeting; the client said to her daughter, "Honey, you remember Dr. Stephens, don't you?" She replied, "Yes, he is the man who killed my dog!"
I was stunned and sick to my stomach; after all I was there to save pets. My life's work was to cure pets and restore them to loving homes. It was the mother who was unwilling or unable to afford the care for Buffy. This encounter from the young girl changed me and my life in an instant. I would often provide pet care at a discount, for nothing or on credit if required.
Although I was never asked in Buffy's situation, there is a limit to how much care veterinarians can provide and operate a business successfully. I had often thought there had to be a better way for pets that would allow pet owners to afford unexpected accidents and illness. After getting over the shock, I told my wife I will not put pets to sleep over money and I will find a way that pet owners can budget and afford the care, without veterinarians always being expected to discount or treat pets for free.
That episode was in 1979 and quickly I began to lobby the local veterinary association that we as a profession had to do something to make it feasible for all pet owners to be able to plan for their pets care. They appointed me to a committee, where new ideas typically die. But with the encouragement of the Executive Director then of the Southern California Veterinary Medical Association, Don Mahan I persevered, much at my own expense and time to formulate the best option; pet health insurance.
After repeated rejections from insurance companies, I set about drumming up support for funding and organizing an insurance company devoted only to pets around the state. Like me, every veterinarian had similar experiences and hated putting pets to sleep due to cost. My profession liked the concept and idea of forming an insurance company.
With the help of a core group of veterinarians and investment from the 900 veterinarians, I raised nearly $2million to form and fund the first and now oldest pet insurance company. After 24 years, I left that company and formed Pets Best Insurance to take my experience and knowledge to change pet insurance and make it better and more relevant for pet owners. Thus the name "Pets Best." From my experience, a great team, and improved attitude towards pet insurance it only took 3 years to break even and four to turn a profit, as compared to over 15 years with the first one! The internet also played a key role in reducing cost and improving awareness.
Pet insurance is now becoming the norm for pet owners to consider in protecting their pets and their pocketbook. I can now look at the overall pet health insurance industry and the many options available to pet owners with satisfaction that millions of pets will receive care that their owners otherwise would not be able to afford with pet health insurance. And it was all due to a typical occurrence in a veterinary practice, a child's perception and value she placed on a small dog!