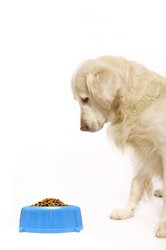 When it comes to caring for your pets there are many important decisions to make, such as selecting the best pet insurance and choosing food for your pet.
Deciding whether to feed them wet or dry food can be as difficult as choosing the brand. When deciding if you are going to be feeding your pet wet food, dry food, or a combination of both, you should make sure that you choose a high quality healthy dog food or a healthy cat food.
When it comes to choosing pet food, there are several reasons that wet food is an ideal choice. Wet dog food and cat food tends to have higher nutritional value than dry food and contains higher amounts of protein, vitamins and moisture.
It is also more appealing to picky eaters due to the variety of flavors available and the overall texture. Due to the way it is packaged, wet food is less processed than dry food and fewer preservatives are needed. Additionally, wet food is easier to chew, which makes it a good choice for very young and senior-aged pets. The downside to wet food is that it spoils quickly after opening and it is more expensive than dry food. Some people also have a hard time with the scent.
Dry dog food and cat food is a better choice when it comes to exercising your pet's jaw muscles. Other advantages of dry food are that it is cost efficient and has a longer shelf life once it has been opened. The downside to dry food is its reduced nutritional value due to the baking process. To keep its shelf stability, dry food has more preservatives than wet food.