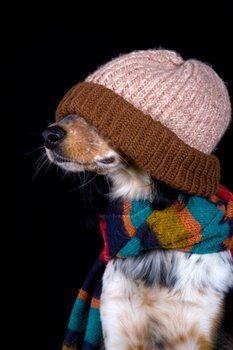 Few things are sadder than when a once-spunky pup starts slowing down and stops jumping up to join you on the couch or bed. Hip dysplasia and arthritis are commonly found in older dogs, especially larger dogs.
Winter months do little to help dog health care or stiff joints to feel any better, as cold air zaps energy and robs us of outdoor playtime and exercise.
According to Texas A&M Veterinary Medicine, some dogs develop hip dysplasia before one year old. Some dogs even undergo surgeries and hip replacements. However, many dogs can see improvement with conservative therapy including joint supplements, pain medication, and rehabilitation, including aqua therapy like swimming and walking on underwater treadmills.
For winter arthritis management, keep these tips in mind:
• Continue walking your dog even in the winter. Drs. Fosters and Smith recommend "moderate exercise that strengthens the gluteal muscles, such as running and swimming."
• Provide a heated bed that can offer soothing comfort.
• Look into joint supplements. Texas A&M recommends Adequan and Cosequin.
• Talk to your veterinarian about pain medication. According to Drs. Fosters and Smith, Rimadyl, Metacam, EtoGesic, Deramaxx, and Previcox are effective pain killers that assist with inflammation.
• Consider holistic treatments like acupuncture. Many pet insurance companies now cover this type of treatment.