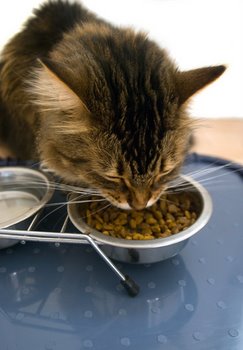 Proctor & Gamble, the company that manufactures Iams brand pet foods, is recalling even more— this time, its Proactive Health Indoor Weight & Hairball cat food, The Greeley Tribune reports.
According to the source, the food, which is sold in blue, 6.8 pound bags is potentially contaminated with salmonella, which can be detrimental to pet health.
The news provider reports that any bags marked with a code date of 02304173 (B1-B6) and the UPC number 1901403921 should be immediately discarded.
This is one of three recalls the company has voluntarily alerted the public of in the past two months.
Although no salmonella-related illnesses have been reported for any of the three recalls, The New York Times has reported that the recalled products have the potential to be detrimental to both pet health and human health.
Proctor & Gamble has told Forbes that pet owners should wash their hands if they have direct contact with any of the recalled products, as it can be inadvertently passed to humans this way.
The news provider reports that pets who contract salmonella may display decreased appetite, fever and abdominal pain. Symptoms in humans include nausea, vomiting, diarrhea, abdominal cramping and fever.
If you believe your pet's health has been affected by salmonella, visit your veterinarian immediately.
A full listing of recalled UPC codes can be found on the Iams.com website.
For more information, call P&G at 877-340-8823.