Posted by: H.R.
Pets Best Insurance Editorial Manager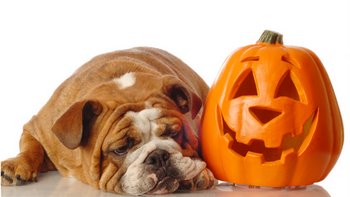 Trick-or-treating and dressing up are the hallmarks of Halloween. Kids of all ages enjoy this fun holiday. Some pet owners like to get into the holiday spirit by dressing up their pets, too.
While Halloween is a fun holiday, it can also present an array of potential pet health dangers. If accidents still occur despite your best efforts, you can still protect yourself by having dog health insurance.
It is a well known fact that dogs shouldn't be fed chocolate as it is toxic to them. Pet owners often feel bad for their dogs because they are unable to enjoy the chocolate candy that is so dearly loved by humans. Dog owners may decide to give their dogs other types of candy thinking that they are making a wiser choice.
The truth is, candy in any form should not be given to dogs. Dogs that eat candy can develop pancreatitis, an inflammation of the pancreas. This condition is not only very painful for the dog, but it is potentially fatal. The symptoms of pancreatitis may not show up for two to four days after consuming candy.
This is important as you might not even know your dog has gotten into your candy stash. If you suspect your dog has been sickened by Halloween candy, he should be seen by a vet. Having pet insurance can help defray the costs of the treatments associated with pancreatitis. Avoid the risk of your pet getting pancreatitis altogether by not feeding him any candy. Be sure to store candy in places that pets do not have access to to prevent this accident from occurring.