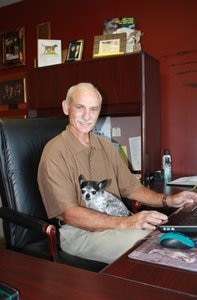 By: Dr. Jack Stephens
Founder and President
Pets Best Insurance
Veterinarians often ask me why more of their clients don't enroll, considering the financial power pet health insurance can provide. The acceptance of pet insurance is affected by the following:
• Client confusion
With an abundance of pet insurance companies to choose from, pet owners don't know where to start. Because of this, they may not take the time to research, and therefore, won't take action. Our non-buyer surveys demonstrate that CONFUSION over companies is the primary factor for not buying pet insurance. Surveys also demonstrate it's not the price or coverage that is confusing, but uncertainty over which will be the best option for them. Unlike homeowners, life or auto insurance there is no agent involved—so pet owners may feel like they're on their own when it comes time to make a choice.
• Clients need a strong recommendation from a veterinarian, staff or friends
Many veterinarians and staff do not understand pet insurance enough to provide a strong recommendation. Many simply display several companies' literature in their lobbies— as a result, the confusion is perpetuated. Either no recommendation is provided, or there are too many options, leaving the client with no clear choice.

Or Call 877-738-7237 to Add a Pet to Your Current Policy
• Clients need predictable reimbursements
If all companies' plans paid a flat percentage of actual veterinary charges, as Pets Best Insurance does, the enrollments would be much higher. Clients who receive less reimbursement than they expect hurts the companies that pay a flat percentage of costs.
• Clients still have the option of euthanasia or ignoring medical problems
Yet some veterinary hospitals have several hundred clients enrolled in pet health insurance and are very pleased with the positive impact on their practice. Those practices that have high numbers of insured clients do the following:
1. Recommend one pet health insurer with confidence to their clients.
2. Educate their staff of the value proposition to clients, pets and the practice. We provide a 60 minute staff training via webinar to help answer staff questions. Contact us at vetservices@petsbest.com or 1-888-349-2520 to schedule a live web session to learn more.
3. Make sure every client is informed about pet insurance, given literature and told about the 5% hospital web link discount.
4. Assist clients with claims when needed and develop a rapport with their recommended pet insurer.
We know from recent industry surveys that veterinary visits are plummeting, especially with cats. Simply put, there is a limit to client spending, and putting off a visit is the easiest solution when it comes to saving money. However, clients who insure their pets will visit more, spend more and have increased compliance with your treatment recommendations. After all, with Pets Best Insurance they are being reimbursed 80% after the deductible.
The market for pet insurance is growing at a healthy 20-25% annually despite the economic downturn. With these simple steps, it can grow even faster and you can help even more clients help their pets.
Understanding that they will have nearly 5x the spending power with pet insurance will ultimately help clients considering their only other alternative might be reducing visits, restricting care or even euthanasia due to cost of care. Having cat and dog insurance is a win-win for the client, the pet and the practice.