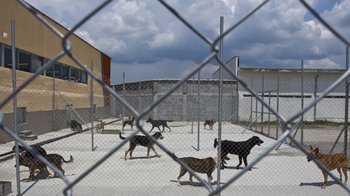 Orange County Animal Services in Florida is seeking community support to help with the costs of vaccinating for a deadly disease found in dogs CF News 13 reports.
According to the source, the shelter has seen a rise in parvo over the past few weeks.
WMBB News reports that the outbreak is likely due to overcrowding in the shelters, caused by the recession.
"Often, the cash-strapped pet owners who are forced to get rid of their pets had also cut back on vaccinations to save money," the news provider reports.
Officials hope the outreach will help maintain and stabilize pet health in the area.
Parvo, a highly-contagious, quick-spreading disease is especially rampant among puppies and dogs that have not been vaccinated against it.
Symptoms of parvo include loss of appetite, vomiting and diarrhea. Although the disease is often treatable, veterinarians suggest vaccinating against parvo when a dog is still young.
According to CF News 13, the shelter workers at Orange County Animal Services have documented 47 cases of the disease affecting pet health over the past two months.
"Puppies under six months old are most likely to get the disease, but it can spread to older dogs at kennels," WMBB News reports. "The incubation period for the virus can be anywhere between 5 and 14 days, which means dogs coming into a shelter may not show symptoms."
At the county's upcoming advisory board meeting, Orange County Animal Services is asking the community to support a program that would allow for free or low-cost parvo and distemper vaccinations.
*Pets Best Insurance offers limited reimbursement for parvo vaccination with the optional BestWellness™ pet insurance plan.