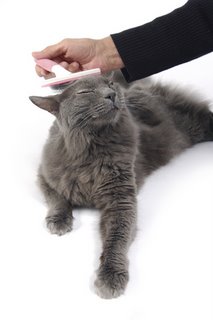 Shelli Neubauer doesn't throw pet fur away anymore after she's done grooming an animal.
Instead, the owner of A Spa For Paws told NBC 26 that she's decided to help tidy the environment with the remnants of fuzz and fluff.
Neubauer told the news provider that the pet hair is helping mop-up the two million gallons of oil that spilled in the Gulf Coast area the end of April after The Deepwater Horizon exploded.
"I've been just throwing it into the garbage and it was going into the landfill," Neubauer told the news provider. "I thought this is crazy and there has got to be a different way to do this," she told NBC 26.
But Neubauer isn't the only pet groomer who's decided to donate fur to clean-up the ocean.
Fellow Groomer Marta Lazansky told the news source she's on board too.
"It's amazing to know such a small community can take part in such a large clean-up effort," she told NBC 26.
According to the news provider, the hair is extremely effective at helping collect the oil, as one pound of fur can soak up a quart of oil per minute.
NBC 26 reported that a group called Matter of Trust is recycling the dog and cat hair into giant mats that clean-up crews are then using to absorb the oil.
"You wouldn't think dog hair could soak up oil, but it's amazing what it can do and how effective it is," Lazansky told the news source.
According to KATU.com, more than 100 business in Oregon alone are contributing pet fur to help with the oil spill.
A pet owner grooming her dog at Pawsitively Clean in Portland told KATU.com that she thinks her pet's contribution is great.
"If we can sweep it off, and send it to help, I think that's amazing," Whitney Luther told the news provider.
Neubauer told NBC 26 she's also happy she and the pets she grooms can help.
"It feels great, every little bit helps and it's awesome," she said.