Pets Best Adds Pet Bereavement Leave to Employee Benefits
Posted on May 20, 2016 under Industry News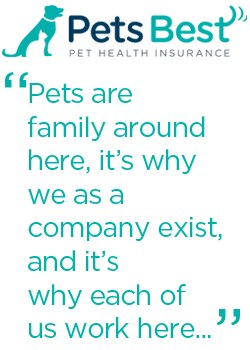 Boise, Idaho – Pets Best Insurance Services, LLC, (Pets Best) a leading U.S. pet health insurance agency, has added a unique new employee perk to their benefits package, "Pet Bereavement Leave."
With this new benefit, the company's 60+ employees will receive one day of paid bereavement leave each year if they lose a member of their furry family. And, this leave will be in addition to the employee's PTO bank.
"In keeping with Pets Best's commitment to our employees and our understanding of the bond between people and their pets, we are proud to be instituting this new pet bereavement policy," said Chris L. Middleton, president of Pets Best. "Pets are family around here, it's why we as a company exist, and it's why each of us work here. While we know nothing can take the pain away of losing a pet, we wanted to provide some extra time to honor their pet."
About Pets Best Insurance Services, LLC
Dr. Jack L. Stephens, founder of Pets Best, started pet insurance in the U.S. in 1981 with a mission to end euthanasia when pet owners couldn't afford veterinary treatment. Dr. Stephens went on to present the first U.S. pet insurance policy to famous television dog Lassie. Pets Best provides coverage for dogs and cats. Dr. Stephens' passion for quality pet care and his expert veterinary knowledge guides the Pets Best team. He is always available to answer questions regarding veterinary medicine, pet health and pet insurance. The Pets Best team is a group of pet lovers who strive to deliver quality customer service and value. Visit www.petsbest.com for more information.
Pet insurance coverage offered and administered by Pets Best Insurance Services, LLC is underwritten by Independence American Insurance Company, a Delaware insurance company. Independence American Insurance Company is a member of The IHC Group, an organization of insurance carriers and marketing and administrative affiliates that has been providing life, health, disability, medical stop-loss and specialty insurance solutions to groups and individuals for over 30 years. For information on The IHC Group, visit: www.ihcgroup.com. Additional insurance services administered by Pets Best Insurance Services, LLC are underwritten by Prime Insurance Company. Each insurer has sole financial responsibility for its own products.
Pets Best is a proud member of the North American Pet Health Insurance Association (NAPHIA).
###