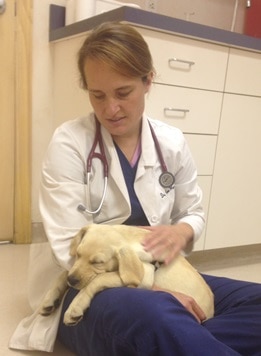 Latest My Vet's the Best contest honors veterinarian Dr. Corrina Parsons

BOISE, ID – Pets Best Insurance Services, LLC, a leading U.S. pet insurance agency based in Boise, Idaho, is pleased to announce veterinarian Dr. Corrina Parsons as the recent winner of the agency's My Vet's the Best contest. Now in its fifth year, the contest continues to acknowledge exceptional veterinarians around the nation.
When selecting finalists, a panel of judges which included Pets Best Founder, Dr. Jack Stephens, considered such criteria as: involvement in pet-related charities, how each vet made a difference in the lives of their clients and their pet patients, and how each vet goes above and beyond.
"We developed this contest to recognize veterinarians for their outstanding service, and we are again impressed by the nominations we received," said Stephens. "In many cases, the personal stories shared by nominees prove what a deep, personal impact these vets make upon their clients. Dr. Parsons, our latest winner, is no exception."
Dr. Parsons, who practices at Longwood Veterinary Center in Kennett Square, Pennsylvania, won the fall 2015 contest after receiving 1,260 online votes. Her name was among 150 nominations for the seasonal award, along with runner-up Dr. Paul Sedlacek of the Animal Clinic in Morris Plains, New Jersey (who had a total of 951 votes). The contest's seven finalists received 3,696 total votes cast by pet owners across the U.S. through the Pets Best Facebook page.
"I am honored and thrilled to have won the "My Vet's the Best" contest," said Dr. Parsons. "The truth is, every veterinarian I know is "The Best" and works hard to care for the people and pets they see every day. I'm not different from any of my colleagues in that regard."
As the contest's winner, Dr. Parsons received a $1,000 cash prize from Pets Best to treat animals in need. "I'm most pleased with the fact that [voters] were not just supporting me but the causes I feel so strongly about," she said. Parsons plans to contribute her winnings to two nonprofits that give back to species known for "serving us as friends and companions, but also in helping us survive": Save Your Ass Long Ear Rescue and Mission K-9 Rescue.
"The daily upkeep of all of the animals supported by each of these rescues is immense. I know that Save Your Ass Long Ear Rescue will most likely be putting a large amount of this award towards hay and feeding costs—which can be staggering during cold New England Winters. And Mission K9 Rescue recently acquired a group of at least ten retired military dogs. Many of those dogs have medical needs that require immediate attention. I am sure their share of the award will all too quickly be consumed by those expenses."
Read about our Q & A session with Dr. Parsons via our in-depth interview here.
In 2010, Pets Best became the nation's first pet insurance administrator to develop a contest aimed at recognizing outstanding veterinarians. Each year, hundreds of veterinarians receive nominations from grateful pet owners. While voting for the contest's seasonal winners is open to the public through the Pets Best Facebook page, each year's grand prize winner is selected by an internal review panel comprised of respected veterinarians.
For more information about the My Vet's the Best contest, visit www.petsbest.com/vetpromo.
About Pets Best Insurance Services, LLC
Dr. Jack L. Stephens, founder and director of Pets Best, founded pet insurance in the U.S. in 1981 with a mission to end euthanasia when pet owners couldn't afford veterinary treatment. Dr. Stephens went on to present the first U.S. pet insurance policy to famous television dog Lassie. Pets Best provides coverage for dogs and cats. Dr. Stephens leads the Pets Best team with his passion for quality pet care and his expert veterinary knowledge. He is always available to answer questions regarding veterinary medicine, pet health and pet insurance. The Pets Best team is a group of pet lovers who strive to deliver quality customer service and value. Visit www.petsbest.com for more information.
Pet insurance coverage offered and administered by Pets Best Insurance Services, LLC is underwritten by Independence American Insurance Company, a Delaware insurance company. Independence American Insurance Company is a member of The IHC Group, an organization of insurance carriers and marketing and administrative affiliates that has been providing life, health, disability, medical stop-loss and specialty insurance solutions to groups and individuals for over 30 years. For information on The IHC Group, visit: www.ihcgroup.com. Additional insurance services administered by Pets Best Insurance Services, LLC are underwritten by Prime Insurance Company. Each insurer has sole financial responsibility for its own products.
Pets Best is a proud member of the North American Pet Health Insurance Association (NAPHIA).
###