By: Chryssa Rich
For Pets Best Insurance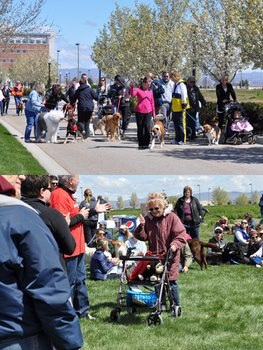 Idaho residents now have a new reason to be out and about with their four-legged friends: Paws for the Heart. Vicki Stephens, wife of our founder and president Jack Stephens, recently participated on behalf of Pets Best Insurance.
Paws for the Heart was organized to promote pet owners walking their dogs for stronger hearts and improved overall human and pet health, something we have long supported here at Pets Best Insurance. After all, the evidence is clear that owning a pet can help a person be more active.
Despite the breezy and cool weather, the first-time event was very well attended with hundreds of pet owners and around 200 dogs of every size and shape. Attendees enjoyed a two-mile walk through a beautiful course surrounding a local medical center. One local shelter walked dogs available for adoption – their doggie vests let everyone know they were looking for forever homes.
Special guests included former Governor of Idaho Cecil Andrus, and "Lady 89", the event's most senior participant. Her age hasn't slowed her down – she used her walker to walk the full two miles with her dog!
Vicki and her therapy dog Schotzie, who uses a wheelchair, hosted a Pets Best Insurance booth in order to educate other pet owners about pet insurance. One customer and his three Pets Best-insured Collies stopped by to rave about our coverage and service, and many stopped by to pick up brochures and learn how they can get pet insurance quotes themselves.
Now that the weather is nicer, we encourage you to seek out new opportunities to get moving with your pets! You'll both be healthier and happier for it.