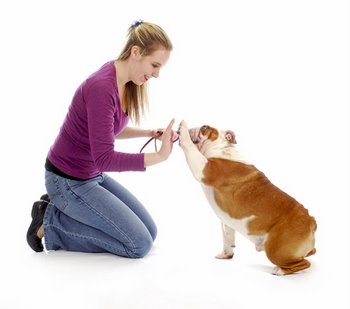 Posted by: H.R.
For Pets Best Insurance
The book 101 Dog Tricks: Step By Step Activities To Engage, Challenge, and Bond With Your Dog is one of the largest pet books targeted at teaching dog tricks.
The book offers step-by-step instructions with a difficulty rating for each trick. Along with detailed instructions, the book offers beautiful full-color photos of each trick. Learning new tricks will mentally stimulate your dog and at the same time strengthen your bond with your dog. This is a book every pet owner should have!
Each trick has trouble-shooting advice as well as dog training tips to help your dog learn. The book also offers "build-on" ideas which allow you to teach more complicated tricks using the simple skills your dog has already acquired.
The tricks are broken down and categorized by their skill level. The levels include easy, intermediate, advanced, and expert. The tricks taught in the book range from sit and stay to bring me the newspaper.
If you are looking for a book to help you teach your new puppy basic commands, this is probably not the book for you. However, if you are looking for a book that builds on your dog's basic knowledge and can help you teach them to do more advanced tricks, this is definitely the book for you. The tricks are easy to teach and can be taught to a dog no matter what previous dog training techniques have been used.