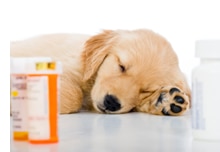 New generic equivalents of brand-name pet drugs are hitting the market, but many clients may not be aware of this cost-saving option*.
Because these new generic versions are less expensive, more pet owners may be able to afford the products and follow through on your recommendations, which can ultimately result in better health for their pets.
While the lower cost can address economic pressures pet owners face, most clients probably won't broach the topic of generics. So it's vital to educate your clients about their pets' drug options and your staff as well. Use staff meetings to go over new drug choices available to clients. Team members can share their knowledge from use with their own pets and client feedback regarding generic drugs. Generic pet meds can help keep the prescription in the practice and strengthen the vet-pet owner relationship.
*http://veterinaryteam.dvm360.com/firstline/Veterinary+team/Generic-drugs-The-benefits-and-challenges/ArticleStandard/Article/detail/721611?contextCategoryId=46659