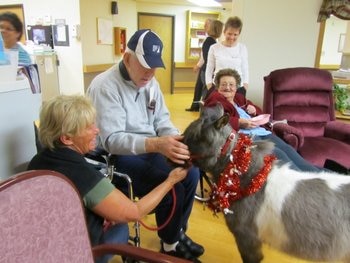 By: Jack L. Stephens DVM
Pets Best Insurance President
I must admit I was more than skeptical when my wife proposed taking one of her miniature horses to the local senior care facility she visits regularly with our therapy dogs.
Working in the pet insurance industry and having worked with animals for years before that, my wife and I know the importance of the animal-human bond. And we love to share our service animals with as many people as possible.
Although the mini horses were a huge hit at a local elementary school's first and second grade reading classes, I was hesitant to see how the senior residents might react to a tiny horse. At the school, true miracles happened as children that could not read publicly; in an instant could read flawlessly when the horse was looking over their shoulder. They were also popular with the special education high school students. But the senior care facility had fragile, bed ridden and wheelchair patients!
She insisted that "Thunder Pants" was so gentle, stoic and calm that he would be great. After calling to be sure our liability policy was in force and that the staff was up for it, off she went to the facility. I'm seldom effective in restraining her enthusiasm when it comes to sharing the value of therapy pets.
When she got there, residents were already waiting at the door to see the mini horse. Senior residents were lined up and wheelchairs lined the lobby in anticipation of Thunder Pants' arrival. Immediately, everyone flocked to him. Each resident wanted to touch and rub him. Everyone, including the staff, wanted their photo taken with him.
When Thunder Pants reached over and kissed Vicki, everyone burst into laughter and applause. He whinnied at the resident cockatiels and again everyone applauded. What was supposed to be a very brief trial visit ended up lasting over an hour. After the visit, some of the residents even walked Thunder Pants to the lobby to say their goodbyes.
Whoever says dogs are the only good therapy pets has likely never encountered a mini horse like Thunder Pants. But one thing is for sure, the tiny horse was a hit and a blessing for the residents and staff. Thunder Pants' visit was a welcome pleasure for bedridden residents.
As my wife drove home, she called me crying. She was crying for the joy she felt in bringing enjoyment to those at the senior care facility and for sharing the wonderful magic of the human-animal bond. Schotzie, our wheelchair bound Daschund, still holds the inspirational title but he now has a competitor for most entertaining therapy pet.