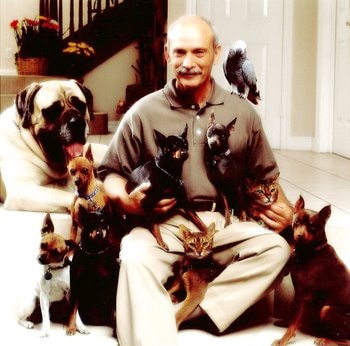 By: Dr. Jack L. Stephens
Pets Best Insurance President
To help assist pet owners in choosing a pet insurance provider and in selecting the best coverage, I am initiating the new "What to look for in pet insurance" series.
My aim is to provide helpful tips for pet owners to avoid unforeseen pitfalls and traps in choosing a pet insurance plan. This series will also help pet owners understand what they should expect from their pet insurance provider in terms of service and reimbursement.
Becoming a veterinarian and later starting my own practice was a dream come true. I worked hard throughout my years at college and veterinary school. After graduation I even took a second job (at night) operating an emergency pet clinic to help fund my own hospital.
Treating pets was something I had always been passionate about. But one day I came to the realization that I had to do something more. I wanted to help pets and their owners receive medical care even if they couldn't afford it.
The turning point for me was after I met one small, sick pet that I was forced to euthanize because the family couldn't afford the treatment costs. It was around then I was determined to change my career path from treating pets to starting the very first successful pet health insurance company in the United States.
I ultimately left my practice and pioneered the concept of pet health insurance so that more pet owners could afford unexpected veterinary care for their pets by using insurance principals of risk sharing. My goal was to provide an alternative for pet owners who did not want to euthanize a beloved pet because of their financial situation. With dog and cat insurance, owners would not have to raid their savings, pay high interest on credit cards or seek lesser care for their pet.
After working with the initial company for a good number of years, I left to start another pet insurance company in 2005— Pets Best Insurance, because I wanted to do things differently.
For many years the company I pioneered in 1982 was the only choice for pet owners. But today there are a dozen or so, pet health insurance providers in the United States and there will likely be many more to come.
Overall, the many options for pet insurance is a good thing for pets, their owners and even the pet health insurance industry as a whole. Competition breeds industry growth by providing more awareness and more attractive options for the consumer.
However, I have noted over the last few years that with more competition comes more confusion. Pet owners seem confused over coverage, about the reliability of the many different companies, and over which company will provide a greater value to them. Pet owners are also confused about which companies are more likely to pay their claims without hassle and which pay their claims timely.
While I may be biased towards Pets Best Insurance, there are many other fine options in the marketplace. (Visit www.naphia.org for members of the North American Pet Health Insurance Association)
Selecting the best pet insurance company is not an easy feat, since circumstances vary widely. Pet owner expectations, budget and cost of pet care must be carefully considered. Optimum coverage for a pet will vary by species, breed, age and the pets' current health. And of course, price will also vary. Underinsuring only becomes a concern if you have a large veterinary bill, while over insuring can drain monthly resources.
Making the right choice becomes easier with knowledge and through experience. But experience can be hard earned and costly. After 12 years of practicing small animal medicine and 30 years of forming and operating pet health insurance I know I can provide you with the knowledge to buy the right coverage to fit your needs and budget. I will use my experience to help you avoid insurance "traps" you might never expect. I will also show you the "trade offs" that you can make in your choice of pet insurance by demonstrating value to price.
I will attempt to be unbiased; given my position and being the founder of Pets Best Insurance. I will not utilize company names or specific plans, but give you the tools to understand the long term value of different options available. Ultimately you the reader will be the judge if I accomplish this goal. But I know you will be more savvy in getting the best value for your pocketbook and in protecting your pet with the information.