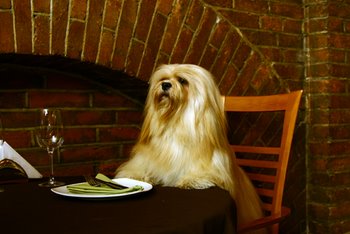 Pet owners and animal adorers alike are chowing down at restaurants with their Chow Chows.
According to USA Today, the number of restaurants where dogs are permitted to join their owners while they dine is rapidly growing.
"To appreciate food and life is to appreciate animals, too," owner/chef of Art and Soul restaurant Art Smith told the news provider.
Smith's restaurant, located on Capitol Hill in Washington, D.C., offers the "puppy patio menu" which includes a 3-ounce steak and homemade doggie granola to its four-legged patrons.
Karen Berndt, owner of the Harbor Fish Market & Grille in Baileys Harbor, Wis., told the news source that it's the presence of the dogs that keeps people coming back to her restaurant, and keeps her staff morale up.
"Several times in a day an employee will rush in and say, 'You've just got to come check out this sweet chow… and I go out and we all smooch up the dog and chat with the people."
Sundays at the Colorado Springs restaurant Nosh, are extra special for pet enthusiasts and animal lovers.
"Plastic kiddie pools are filled with water, tables are arranged to maximize romp-around room, and off-leash dogs frolic dog-park style, sniffing… sampling treats from the bags of doggie goodies presented free to each diner accompanied by a dog," USA Today reports.
According to the source, members of the staff watch over the playful pooches to make sure it doesn't get too out of hand and that patron and pet health aren't compromised, but Nosh's manager Tyler Schiedel said there haven't been any issues and the dogs are just happy to be there.
"A dog has to be pack friendly," he told USA Today.
Chris Lynch of Sonoma County's Mutt Lynch Winery in California said they also rarely get any misbehaving dogs.
"Even people who don't bring their dogs to the winery appreciate animals and enjoy having them around," Lynch told the news provider, adding that if they don't, "We tell them there are a lot of other very nice wineries around."