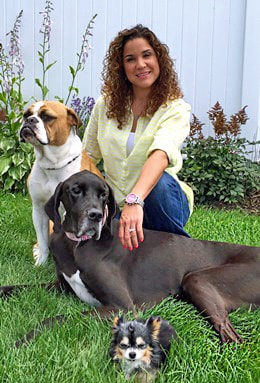 Latest My Vet's the Best contest honors veterinarian Dr. Mariliz Hernandez
BOISE, Idaho – Pets Best Insurance Services, LLC, a leading U.S. pet insurance agency based in Boise, Idaho, is pleased to announce veterinarian Dr. Mariliz Hernandez as the most recent winner of the agency's My Vet's the Best contest. The nationwide contest honors veterinarians for their outstanding service.
The latest round of the contest brought in 4,499 total votes cast by pet owners across the U.S. through the Pets Best Facebook page.
"We developed this contest to acknowledge exceptional veterinarians around the nation," said Dr. Jack Stephens, founder of Pets Best. "Dr. Hernandez is one such individual, known for her compassionate care and genuine concern for her clients."
Dr. Hernandez, who practices at Bellerose Animal Hospital in Bellerose, New York, won the contest after receiving 1,566 online votes. She was among hundreds of veterinarians nominated for the seasonal award. The contest's six other finalists received a significant number of votes. Runner-up Dr. Keith Dan of Desert Care Animal Hospital in Hesperia, California, had a total of 1,335 votes.
"I feel honored and privileged to be nominated," said Dr. Hernandez. "To be able to have an impact in someone's life to the point that they acknowledge it publicly [means] a great deal to me. It's uplifting and this allows me to continue this journey of service and the vocation of helping those that can't talk."
As this round's winner, Dr. Hernandez received $1,000 from Pets Best to treat animals in need. Dr. Hernandez and her team at Bellerose Animal Hospital plan to use the $1,000 cash prize to create a fund that will be used to help clients who cannot afford medical treatment for their pets.
Cindy Feuerstein-Kurtz, the pet owner who nominated Dr. Hernandez, also received $200 from Pets Best. To pay it forward, she has opted to donate her $200 prize to the staff at Bellerose Animal Hospital. "I am ecstatically happy for Dr. Hernandez and Bellerose Animal Hospital," says Feuerstein-Kurtz. "They all are truly deserving of the honor. Thank you so much for this opportunity and appreciating our heartfelt story."
Dr. Hernandez sees herself as an advocate for the pets who enter her clinic as patients, an experience she finds highly rewarding. "I get to positively impact a human life by bringing back to health their furry companions," said Dr. Hernandez. "It is a big responsibility to convey what my patients need to their owners." And, because Dr. Hernandez is fluent in Spanish, she is able to communicate clearly with her Hispanic clients, ensuring that the staff at Bellerose Animal Hospital is able to thoroughly answer their questions and address their concerns.
Read more about Dr. Hernandez via our in-depth interview here.
In 2010, Pets Best became the nation's first pet insurance company to develop a contest aimed at recognizing outstanding veterinarians. Each year, hundreds of veterinarians receive nominations from grateful pet owners. While voting for the contest's seasonal winners is open to the public through the Pets Best Facebook page, each year's grand prize winner is selected by an internal review panel comprised of respected veterinarians.
For more information about the My Vet's the Best contest, visit www.petsbest.com/vetpromo.
About Pets Best Insurance Services, LLC
Dr. Jack L. Stephens, founder and director of Pets Best, founded pet insurance in the U.S. in 1981 with a mission to end euthanasia when pet owners couldn't afford veterinary treatment. Dr. Stephens went on to present the first U.S. pet insurance policy to famous television dog Lassie. Pets Best provides coverage for dogs and cats. Dr. Stephens leads the Pets Best team with his passion for quality pet care and his expert veterinary knowledge. He is always available to answer questions regarding veterinary medicine, pet health and pet insurance. The Pets Best team is a group of pet lovers who strive to deliver quality customer service and value. Visit www.petsbest.com for more information.
Pet insurance coverage offered and administered by Pets Best Insurance Services, LLC is underwritten by Independence American Insurance Company, a Delaware insurance company. Independence American Insurance Company is a member of The IHC Group, an organization of insurance carriers and marketing and administrative affiliates that has been providing life, health, disability, medical stop-loss and specialty insurance solutions to groups and individuals for over 30 years. For information on The IHC Group, visit: www.ihcgroup.com. Additional insurance services administered by Pets Best Insurance Services, LLC are underwritten by Prime Insurance Company. Each insurer has sole financial responsibility for its own products.
Pets Best is a proud member of the North America Pet Health Insurance Association (NAPHIA).
###