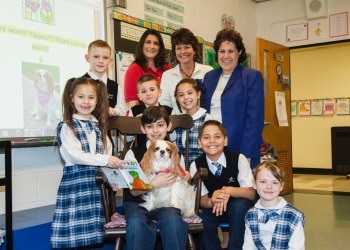 Pets Best hosts 3rd annual contest to recognize therapy dogs in classrooms and libraries across the United States.
BOISE, Idaho – Pets Best Insurance Services, LLC, a leading U.S. pet health insurance company, announced today a Poughkeepsie, New York therapy dog has been selected as the winner of their third annual Books & Barks Contest. Sydney, a therapy dog that regularly visits students at St. Martin de Porres School, won the national contest. Created in 2014, the Books & Barks Contest recognizes and brings awareness to the inspirational work of therapy dogs in classrooms and libraries across the nation.
Photo Above: Sydney, 2016 Books & Barks winner with Chris Grimaldi, owner/handler; Kim Papineau, second grade teacher; Mrs. Kathy Leahy, Principal and students of St. Martin de Porres School. Photo by Anthony DeMarco.
In its third year, the Books & Barks Contest brought in a total of 8,185 votes. Individuals voted in support of the eight finalists from across the U.S., casting their votes on the Pets Best Facebook page. Sydney won the contest with 2,866 votes. Runner-up Maggie, an 11-year-old therapy dog from Ohio, came in a close second with 2,834 votes.
"Pets Best is pleased that our 2016 contest received such an enthusiastic response from the public and it was our closest contest yet, with only 32 votes separating the winner and runner-up," said Chris L. Middleton, president of Pets Best. "We recognize that therapy dogs play a significant role in the classroom and it's wonderful to see students get excited about reading – thanks to these amazing dogs."
Chris Grimaldi, Sydney's owner and handler, nominated the 8-year-old female Cavalier King Charles Spaniel for the contest. For the past seven years, Sydney and Grimaldi have worked with second-grade students every week at St. Martin de Porres School. In 2009, Sydney became a registered therapy dog with Therapy Dogs International, Inc. and earned the Tail Waggin' Tutor Achievement Award. She also received the TDIAOV (Active Outstanding Volunteer Award) from Therapy Dogs International, Inc. and the THDX (Therapy Dog Excellent) designation from the American Kennel Club.
As part of the contest, Pets Best awarded $1,000 to St. Martin de Porres School and $500 to an animal charity selected by Grimaldi. She chose The American Cavalier King Charles Spaniel Rescue Trust (The Trust), a non-profit organization that benefits Cavaliers who are lost, abandoned or unwanted. The organization provides a nationwide network of rescue volunteers and public education in an effort to reduce the number of Cavaliers that come into rescue.
"I am thrilled that Sydney won because it brings awareness to therapy dogs and the wonderful work they do, whether it is volunteering with children in a school, or in a nursing home like I do with Sydney's older brother, Oliver," said Grimaldi. "Many people are unaware of therapy dogs and the good that they do for the community, and I hope this contest shines a light on therapy dogs, their handlers, and their accomplishments."
According to second-grade teacher Kim Papineau, Grimaldi always goes the extra mile with her warm and happy demeanor and her kind, positive comments for her students. Sydney, who loves showing up to school in stylish outfits, is a "poster dog." She is an affectionate, sweet, and loving reading buddy.
"Sydney has truly helped build the confidence of those reluctant and emergent readers with her calm demeanor and her constant tail wag," said Papineau. "It's especially wonderful to see their hands go up and be excited about an opportunity to read when that task isn't necessarily easy or enjoyed by them."
Principal Kathy Leahy said the students look forward to reading with Sydney every week. There is friendly competition for the dog's attention, but Sydney makes sure to divide her attention equally among the students.
"The children enjoy curling up with a warm and loving dog, and there is no judgment when they read to Sydney," shared Leahy.
Sydney and Grimaldi not only visit Papineau's second-grade classroom, but they also support school events. Students and parents love the dog so much that each year they collect donations for the Dutchess County SPCA in Sydney's honor.
Leahy said that they plan to divide St. Martin's $1000 prize money. They will use part of the money for their school-wide assembly in the fall to promote reading. Part of the funds will go towards a special award. Since Sydney's first class is graduating this year, the award will be in Sydney's honor. Eighth graders can apply by writing an essay about their relationship with Sydney and the impact that reading has on their life. Leahy also plans to purchase new books for students.
Pets Best hosts the Books and Barks contest annually, with the next contest scheduled for spring 2017. Follow Pets Best on Facebook and Twitter to stay updated about upcoming contest dates.
Enter the 2017 Books & Barks contest now, visit https://www.petsbest.com/forms/books-barks-contest.
About Pets Best Insurance Services, LLC
Dr. Jack L. Stephens, founder of Pets Best, started pet insurance in the U.S. in 1981 with a mission to end euthanasia when pet owners couldn't afford veterinary treatment. Dr. Stephens went on to present the first U.S. pet insurance policy to famous television dog Lassie. Pets Best provides coverage for dogs and cats. Dr. Stephens' passion for quality pet care and his expert veterinary knowledge guides the Pets Best team. He is always available to answer questions regarding veterinary medicine, pet health and pet insurance. The Pets Best team is a group of pet lovers who strive to deliver quality customer service and value. Visit www.petsbest.com for more information.
Pet insurance coverage offered and administered by Pets Best Insurance Services, LLC is underwritten by Independence American Insurance Company, a Delaware insurance company. Independence American Insurance Company is a member of The IHC Group, an organization of insurance carriers and marketing and administrative affiliates that has been providing life, health, disability, medical stop-loss and specialty insurance solutions to groups and individuals for over 30 years. For information on The IHC Group, visit: www.ihcgroup.com. Additional insurance services administered by Pets Best Insurance Services, LLC are underwritten by Prime Insurance Company. Each insurer has sole financial responsibility for its own products.
Pets Best is a proud member of the North American Pet Health Insurance Association (NAPHIA).
###