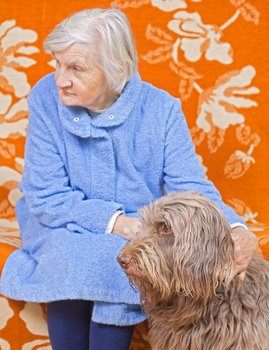 Dog and cat health care is something owners constantly worry about, but now veterinarians say dementia is another fret to add to the list.
Thanks to better nutrition and technology, dogs and cats are living longer, which means they develop problems of old age, Dr. Melissa J. Bain of the University of California School of Veterinary Medicine told msnbc.com.
"The older they get, the more signs" you see, Dr. Bain said.
Pet owner Linda Oshop said she only noticed slight changes in her Cocker Spaniel, Samantha, at first. Now Oshop has to carry her dog outside and put her in the grass and then carry her back inside because Samantha often can't remember where the door is.
Dr. Mike Hutchinson told a KDKA 2 news provider that Samantha's actions are classic signs of dementia and that the deterioration of pet health is likely due to old age.
"They won't greet you the same. They won't wag their tail. They won't give you that famous hello when you come into the house [anymore]," Dr. Hutchinson told KDKA 2.
The news provider reported that dementia tends to be more prevalent in smaller breeds, likely because they live longer.
"They found that they had the same plaques with protein – amyloid – that was blocking these neurotransmitters or these chemicals in the brain from sending messages between the cells, so it was the exact same problem we are seeing in people," Dr. Hutchinson told the news source.
Msnbc.com reported that recent studies have shown nearly a third of 11 and 12-year-old dogs have significant cognitive issues, and in cats as many as 80 percent over age 16 show symptoms of dementia.
According to the news source, some signs to look for include:
•Disorientation, like walking aimlessly, staring at nothing, losing their way or being off balance
•Interactions with owners changing, such as ignoring, hiding, no longer greeting, or having little interest in things you once did together
•Sleep habits reversing—a pet who is awake all night and sleeps through the day could have dementia
•House-training forgotten, a cat may forget where its litter box is while a dog could forget how to access the doggy door and instead goes inside
If you have noticed any of these signs in your pet, ask your pet's health care provider what could be causing it. If caught early, medication can often help slow the effects altogether. After all, nothing is more important to pet owners than pet health.