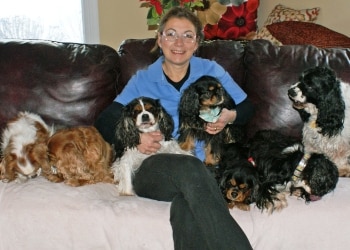 18,720 votes cast in latest My Vet's the Best contest.
BOISE, Idaho – Pets Best Insurance Services, LLC, a leading U.S. pet insurance agency based in Boise, Idaho, announced today that veterinarian Dr. Judy Morgan has been voted the most recent winner of the agency's My Vet's the Best contest. The nationwide contest honors veterinarians for outstanding service.
This installment of the contest saw 18,720 votes cast from pet owners across the U.S. on the Pets Best website, www.petsbest.com, and on the company's Facebook page. Hundreds of veterinarians were nominated and Dr. Morgan competed against five other finalists, winning with 7,189 votes.
"We are thrilled to see so many enthusiastic pet owners getting involved in the My Vet's the Best contest with their nominations and voting," said Dr. Jack Stephens, president and founder of Pets Best. "It is important to recognize veterinarians, like Dr. Morgan, who work tirelessly to better the lives of animals, not only in their clinic but in their community as well."
Dr. Morgan received her degree in veterinary medicine from the University of Illinois in 1984.
She has operated Clayton Veterinary Associates in Clayton, New Jersey since 1993 and opened her second practice, Churchtown Veterinary Associates, in Pennsville, New Jersey in 2010.
"I think my clients and pet-owning friends understand how passionate I am about pet rescue and giving our pets the best life possible," said Dr. Morgan of why she believes she won.
As the winner, Dr. Morgan received $1,000 from Pets Best to treat animals in need. She plans to use the prize money to assist with dog rescue efforts. Dr. Morgan is actively involved in a Cavalier King Charles Spaniel rescue and an English Toy Spaniel rescue, where she transports, fosters, and provides care to abandoned, neglected, and abused animals. She also plans to place the remaining prize money in an account for other locally rescued pets, including puppy mill rescues.
"I am honored to think that so many clients and friends care enough about me and my passion for animal rescue that they took time out of their busy schedules to vote for me," Dr. Morgan said. "Their enthusiasm was truly inspiring and contagious!"
In 2010, Pets Best became the nation's first pet insurance company to develop a contest aimed at recognizing outstanding veterinarians. Each year, thousands of veterinarians receive nominations from grateful pet owners. While voting for the contest's winners is open to the public through the Pets Best website and Facebook page, each year's grand prize winner is selected by an internal review panel composed of veterinarians and veterinary industry professionals.
For more information about the My Vet's the Best contest, visit www.petsbest.com/blog/my-vets-the-best-contest.
About Pets Best Insurance Services, LLC
Dr. Jack L. Stephens, president of Pets Best, founded pet insurance in the U.S. in 1981 with a mission to end euthanasia when pet owners couldn't afford veterinary treatment. Dr. Stephens went on to present the first U.S. pet insurance policy to famous television dog Lassie. Pets Best provides coverage for dogs and cats and is the only veterinarian founded and operated pet insurance agency in the United States. Dr. Stephens leads the Pets Best team with his passion for quality pet care and his expert veterinary knowledge. He is always available to answer questions regarding veterinary medicine, pet health and pet insurance. The Pets Best team is a group of pet lovers who strive to deliver quality customer service and value. Visit www.petsbest.com for more information.
Pet insurance coverage offered and administered by Pets Best Insurance Services, LLC is underwritten by Independence American Insurance Company, a Delaware insurance company. Independence American Insurance Company is a member of The IHC Group, an organization of insurance carriers and marketing and administrative affiliates that has been providing life, health, disability, medical stop-loss and specialty insurance solutions to groups and individuals for over 30 years. For information on The IHC Group, visit: www.ihcgroup.com. Additional insurance services administered by Pets Best Insurance Services, LLC are underwritten by Prime Insurance Company. Some existing business is underwritten by Aetna Insurance Company of Connecticut. Each insurer has sole financial responsibility for its own products.
Pets Best is a proud member of the North America Pet Health Insurance Association (NAPHIA).
###