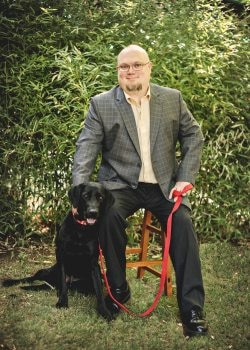 Boise, Idaho – Pets Best Insurance Services, LLC, (Pets Best) a leading U.S. pet health insurance agency, is pleased to announce the appointment of Jared Hight to General Counsel from Vice President of Claims.
Mr. Hight attended the University of Idaho College of Law while continuing to work full-time for Pets Best. After graduating in December and being admitted to the Idaho State Bar this spring, Mr. Hight was immediately promoted to overseeing the company's legal function. Mr. Hight has been with Pets Best since the company's inception in 2005, shortly after his graduation from Boise State University with his undergraduate degree in English Literature. Originally hired to create and staff the company's underwriting department, his role was quickly expanded to oversee the claims department and eventually corporate compliance.
"Pets Best has always been an opportunity to be involved in creating something from the ground up, plus the people I work with are excellent and the employees are fantastic," Hight said. "Being able to stay at Pets Best while utilizing my law degree is really the best of both worlds, giving me an opportunity to remain with the company that has been my home while further expanding my responsibilities into new and challenging areas."
Pets Best President, Chris L. Middleton, said he couldn't be prouder of the culture at Pets Best that keeps employees like Jared committed to the mission of the company.
"We are so fortunate to have such a committed, intelligent and dynamic team working for a cause they all believe in," Middleton said. "And when we're able to keep and promote talent like Jared's—for over a decade—we know we're on the right track to doing great things as a company."
Mr. Hight has worked extensively with pets since he first began volunteering at veterinary hospitals when he was ten years old. He spent the decade prior to coming aboard with Pets Best in a variety of veterinary nursing and animal hospital administration roles. Last year he was honored by the Idaho Business Review as one of Idaho's "Accomplished Under 40."
About Pets Best Insurance Services, LLC
Dr. Jack L. Stephens, founder of Pets Best, started pet insurance in the U.S. in 1981 with a mission to end euthanasia when pet owners couldn't afford veterinary treatment. Dr. Stephens went on to present the first U.S. pet insurance policy to famous television dog Lassie. Pets Best provides coverage for dogs and cats. Dr. Stephens' passion for quality pet care and his expert veterinary knowledge guides the Pets Best team. He is always available to answer questions regarding veterinary medicine, pet health and pet insurance. The Pets Best team is a group of pet lovers who strive to deliver quality customer service and value. Visit www.petsbest.com for more information.
Pet insurance coverage offered and administered by Pets Best Insurance Services, LLC is underwritten by Independence American Insurance Company, a Delaware insurance company. Independence American Insurance Company is a member of The IHC Group, an organization of insurance carriers and marketing and administrative affiliates that has been providing life, health, disability, medical stop-loss and specialty insurance solutions to groups and individuals for over 30 years. For information on The IHC Group, visit: www.ihcgroup.com.
Pets Best is a proud member of the North American Pet Health Insurance Association (NAPHIA).
###