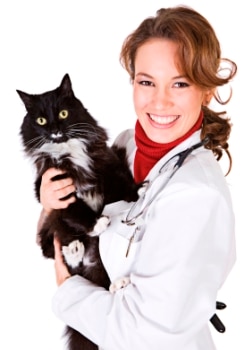 In honor of National Veterinary Technician Week, we asked Erica Mattox to discuss what being a Veterinary Technician means. Erica is president of the Idaho Society of Veterinary Technicians and Assistants (ISVTA), and Nursing Director at WestVet 24 Hour Animal Emergency & Specialty Center. At Pets Best, we're proud to have assembled a team of claims processors that reflect the very best the Veterinary Technician and Assistants profession has to offer. National Veterinary Technician Week was created by the National Association of Veterinary Technicians in America (NAVTA).
What is a Veterinary Technician?
Veterinary Technology is a career dedicated to the quality care of animals.
Most veterinary technicians work with small animals including; dogs, cats, and exotic animals. As a technician there are also opportunities working with large animals such as horses, cows and other livestock. There are also many other unique opportunities such as; humane societies, hospital management, veterinary schools, zoo animal care, and research.
Veterinarians look to veterinary technicians to provide technical support for all aspects of animal care. A veterinary technician can do everything a veterinarian can do with the exception of diagnosing, giving a prognosis, prescribing medication, or performing surgery.
Veterinary technicians will interact with clients and their animals, perform examinations, collect samples of blood, urine, feces and other body fluids and tissues, conduct laboratory tests, take x-rays, administer anesthesia, and assist in surgery.
How to Become a Veterinary Technician
To become a veterinary technician you must first complete a veterinary technology education program. Formal education from a college approved from the American Veterinary Medical Association (AVMA) is required.  Courses are taught by experienced veterinary technicians and veterinarians who are aware of the expectations of future employers. Most approved programs cover two academic years of college level study and lead to an associate degree in applied science. Several institutions offer a four year curriculum and there are accredited online programs available.
After graduating an approved program you can become a certified veterinary technician. What this means is you have completed the required education and taken a national exam; the Veterinary Technician National Exam (VTNE) in order to become credentialed.  In most states this test is offered twice a year and your education should prepare you to take this exam. Once you have passed your exam you are a Certified Veterinary Technician (CVT). To uphold this credential you have to go to continuing education classes to continue your education and learn the new technology that is forever changing in this career. The continuing education is recorded by the state you work in.  Each state requires a different amount of continuing education credits to continue your credentialing.
New technologies in the care of animals have created a need for certified veterinary technicians to continue their education into the form of specialties. Once you become a certified veterinary technician if you find a particular area of your job that you are interested in there may be the opportunity to specialize. The veterinary technician specialties that exist today are: veterinary technician anesthetist, veterinary emergency and critical care technicians, veterinary internal medicine technicians, veterinary behavior technicians, and veterinary dental technicians.
Who Should Look for a Career as a Veterinary Technician?
Do you love animals and enjoy working with people? Any person who loves animals, is nurturing, who wants to make a difference for health care for client's animals or those housed in zoos or research environments, should strongly consider a career as a veterinary technician. 
The Best Part of Being a Veterinary Technician
Working with animals of course! I love being a veterinary technician. I enjoy the medical aspect of my job. I get to feel like I really make a difference in the lives of animals and the people who love them every day. I never stop learning.
Great Articles Delivered Monthly. Subscribe to Our Free eNewsletter!