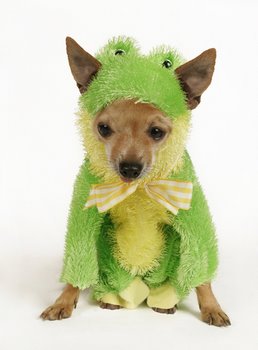 By: Dr. Fiona Caldwell
Veterinarian at Idaho Veterinary Hospital
For Pets Best Insurance
January 14th is National Dress Up Your Pet day! This fun day is for animal lovers and pet insurance enthusiasts everywhere! This day allows pets and theit owners to have fun and show off their fashion sense! Of course, you will want to be sure to do this in a responsible way, as not every pet likes to be dressed up.
Since they can't verbally express to you their humiliation, if your pet doesn't seem to like wearing clothes, or if she hides or cowers, don't force the cutesy clothing issue. If your pet is a little shy about showing off, try something a little more reserved, like a colorful bandana or fancy collar instead.
If you do choose to try a costume, here are some common sense rules to keep your pet safe and happy:
1. Avoid any costume with parts that can be ingested easily. Strings and ribbons pose a particular risk for causing potentially serious side effects if ingested.
2. Never leave the costume on your pet while unattended, or for long periods of time.
3. Use an outfit that has velcro enclosures so if need be, the outfit can be quickly removed.
4. Consider your pet's comfort and body temperature. Anything tight or constricting will not be comfortable for long periods of time. Pets can also easily overheat if they become too warm in the clothing, especially indooors.
5. Keep the celebration fun by pairing outfits with praise, attention and treats!

Or Call 877-738-7237 to Add a Pet to Your Current Policy
6. Seeing that January is one of the coldest months of the year, try using this day as an excuse to bundle your pet up before a long walk in the park or a hike.
Let's admit it, there are some really cute ways to make your dog (or cat) catwalk ready, but just be sure everyone is having fun, not just the two legged ones!
For more information about pet health, behavior and dog or cat insurance, visit Pets Best Insurance.