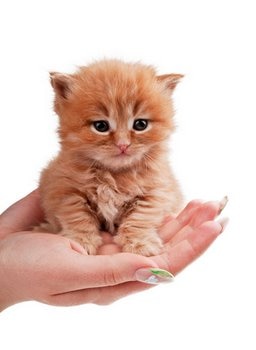 By: Dr. Fiona Caldwell
Vet at Idaho Veterinary Hospital
For Pets Best Insurance
The first week of Novemeber is National Cat Week! Setting aside a week to recognize the intelligence and personalities our feline friends offer is a small way to give thanks and to raise awareness about the scores of kitties that don't have people to love. If you happen to already be a kitty owner, it's a great time to look into cat health insurance for your furry companion. Cat insurance can help you afford the best care for your pet in the event of an illness or unexpected accident. Additionally, National Animal Shelter Appreciation week will be upon us soon– November 5th through the 11th, so after adopting your new best friend, make sure to start looking into the best cat or dog health insurance you can find. Companies like Pets Best Insurance reimburse 80% of the actual vet bill!
Local animal shelters are a haven for thousands of homeless animals and work closely with communities to ensure pet health and well-being. While this particular story is about a stray kitten that was lucky enough to never end up in a shelter, her story can still highlights the effort put forth by humane societies to connect homeless pets with petless homes.
A family recently came to my clinic and their story is perfect for National Cat week, and also resonates with National Shelter Animal Appreciation week. Autumn was a tiny 2 pound Calico bundle of skinny fur and whiskers. A couple found her in a drainage ditch, shivering. Unwilling to leave her there, they scooped her up and took her home. She was bathed and fed and within hours of being warmed and fed she became a playful 8 week old kitten. Before allowing her to interact with the other cats at home, the family recognized the importance of scheduling a visit with their veterinarian to ensure she was healthy.
Or Call 877-738-7237 to Add a Pet to Your Current Policy
From the outside Autumn looked like she was in great pet health although she was slightly skinny. It was recommended that she start receiving kitten vaccines and that she be tested for infectious viral diseases; two such diseases are Feline immunodeficiency virus and Feline Leukemia virus. If Autumn had either of these disease, she could spread it to the healthy cats at home. The couple agreed that she should be tested. Unfortunately, the blood test was positive for Feline Leukemia virus.
Feline leukemia virus is a retrovirus that is spread from cat to cat by saliva of the infected to cat to eyes, mouth or nose of non-infected cats through grooming, biting, during pregnancy or nursing from mom to kitten and rarely from sharing bowls and toys. The virus spreads from the infected tissue to adjacent lymph nodes and eventually invades the bone marrow, causing leukemia, a cancer of lymphocytes. The virus can compromise the immune system, leaving the cat susceptible to a variety of other illnesses, thus clinical signs of the disease can be varied. If the cat's immune system can't clear the virus, the disease can be fatal. There is no cure.
There is a vaccine available against FeLV; most experts agree that cats with risk of exposure to other stray cats be vaccinated. Less than 1% of cats as pets are persistently infected with FeLV in the United States, but well over a third have specific antibodies which indicate prior exposure and subsequent development of immunity instead of infection. Experts agree there is strong evidence kittens under 4 months of age, such as Autumn are susceptible to infection, but as their immune system matures, they are able to 'clear' the virus from their bodies. There are three outcomes for cats infected with this virus, the cat can fight off the infection and become totally immune, it can become a healthy carrier that never gets sick itself but can infect other cats, or it can develop the disease and become immunocompromised. Pet insurance companies like Pets Best Insurance even offer a limited reimbursement for this vaccine.
The kind-hearted couple were faced with a huge dilemma. Do they open their home to this little kitten, segregating her from the other cats in the house, potentially for months, and retest her, knowing there was a risk she might get sick before then? Or do they give her up now, protecting their other cats at home from infection and hope someone else would give her the chance to clear the disease? Lastly, they considered putting her down now, and sparing her the suffering that would occur should she develop symptoms of leukemia.
The couple decided to sleep on it; they left Autumn at the clinic for a night so that they could go home and discuss the best option. To my delight, they decided to give her a chance! They brought their other cats in immediately to be FeLV vaccinated as an extra precaution, and kept Autumn in a separate part of the house for 8 weeks. Two months seemed to fly by, and soon Autumn was on my schedule to be re-tested. Everybody held their breath and crossed their fingers as we waited the agonizing ten minutes in takes to run the test. And she was negative! She had cleared the disease, just as we had hoped, and therefore was no longer a carrier and could live a normal life with her new family.
Autumn was lucky to have found a family to care for her; We encourage you to take a moment November 5 through 11 to appreciate the work that your local shelter does to help kittens like Autumn every day and take time this week to give your feline friend an extra kiss to recognize National Cat week!
For more information about pet health or pet insurance, visit Pets Best Insurance.