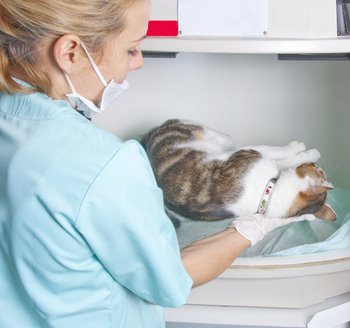 February is National Cat Health Month and Pets Best Insurance wants pet owners to celebrate the month by taking steps to keep your cat safe and healthy.
If your cat is not covered by cat insurance, now is the time to get your cat insurance coverage—it can help cover the cost of pet illness or injury. But there are other steps you can take to ensure proper pet health.
Preventative care is a great way to help your cat stay healthy. Cats should visit the veterinarian at least once a year for a wellness and routine care check up. If you have an older cat, a check-up every 6 months is a good idea. Check-ups allow your veterinarian to examine your cat and catch any problems early on. In addition to annual exams, have your cat vaccinated. Vaccinations help to protect your cat from potentially deadly illnesses.
Keep your cat parasite free by protecting them against fleas. Because they can ingest them, cats that have fleas can be infected with tapeworms. Keep your cat on a flea preventative to help them stay flea free.
Help control the pet overpopulation problem in the U.S. by spaying and neutering your cats. This can prevent them from getting testicular cancer, mammary tumors, and other pet health issues.
Grooming your cat regularly can help identify pet health concerns early. Brushing will not only cut down on the amount of hair they shed, it will also help reduce hairballs. Cats should also have their toenails trimmed regularly. With regular brushing and trimming, you can spot signs of pet health illness as a change in their coat can warrant a trip to the veterinarian.