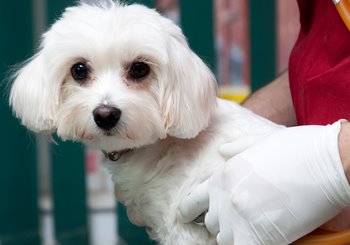 The entire month of April is a cause for celebration. While it's not all necessarily pet insurance related, the month of April is a time to focus on our pets and the people who devotedly work for their safety, protection, and animal health care. Throughout April, there are a number of week-long awareness and appreciation days.
National Animal Control Appreciation Week
Many of us have an outdated image of "Mean Mr. Dogcatcher" rounding up all the stray dogs in the neighborhood when we hear "animal control." But in reality, animal control officers work hard on behalf of animals and always have their safety in mind.
The profession, which is state certified, also requires continuing education. In many areas, animal control departments also operate the local animal shelters. The men and women who do this job are invested in assisting and getting good results for both animals and the people who care about them.
According to the National Animal Control Association (NACA), an animal control officer's job entails:
• Investigating animal neglect or cruelty
• Capturing roaming (and sometimes dangerous) dogs
• Rescue injured and sick animals
• Educate pet owners about the laws and proper pet care
• Mediate disputes between neighbors over pets
• Reunite lost pets with owners
Animal control officers are often at personal risk when doing their jobs, as they can be exposed to many animal-borne diseases like rabies and attacks by vicious animals. Many police departments, who usually oversee animal control, and local governments are planning events recognizing this profession.
So take some time this week to acknowledge the valuable contribution these people make to pet safety, and say "thank you" for their service to animals and the community.