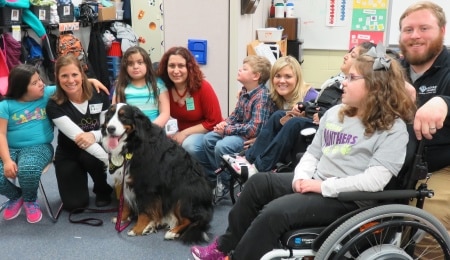 Pets Best hosts 2nd annual contest to recognize therapy dogs in classrooms and libraries
BOISE, Idaho – Pets Best Insurance Services, LLC, a leading United States pet-health insurance agency, announced today a Naperville, Illinois therapy dog has been selected as the winner of the agency's second annual Books & Barks contest. Ellie Rose, a therapy dog who regularly visits the students of Peterson Elementary, won the nationwide contest, which was created to recognize and bring awareness to the inspirational work of therapy dogs in classrooms and libraries across the nation.
In its second year, the Books & Barks contest brought in a total of 12,206 votes. Various communities voted in support of eight finalists from across the U.S., individuals casting their votes by visiting the company's Facebook page. As part of the contest, Pets Best awarded $1,000 to Peterson Elementary and $500 to a pet therapy organization selected by Ellie Rose's owner and handler. Ellie Rose celebrated her win with the students of Peterson Elementary, as they lined the hallways on both floors to applaud and pet her as she took a parade lap.
Renee Cole, Ellie Rose's owner and handler, said the 5-year-old Bernese Mountain Dog has been visiting Peterson Elementary for two years. When she was 9 months old, Ellie Rose received her first Canine Good Citizen Award, and went on to gain her therapy dog certification at the age of 1 year. Ellie Rose received a total of 5,229 online votes during the Books & Barks contest. Fellow finalist Buttons, from Hazle Township, Pennsylvania, was a close runner up with 5,101 votes.
"I'm so proud of Ellie for being the gentle soul she is, one who does not care if a child reads in a whisper, a big voice, or one that can only express themselves with emotion," Cole said. "Peterson Elementary is a trailblazer in our district in regularly welcoming a therapy dog into the classrooms."
Pets Best awarded Cole with a $500 donation to any animal-related nonprofit of her choice. Cole selected the Bernese Friends Worldwide Rescue (BFW Rescue), an organization that focuses on re-homing Bernese mountain dogs in need, as the recipient of the donation.
Ellie Rose was nominated by Meghan Von Dorn, a special education teacher at Peterson Elementary School in Naperville, Illinois. Following the successful nomination from Meghan, Pets Best awarded her school with $1,000. The money will be used to purchase adaptive books for the Peterson Elementary library, so students can borrow a variety of resources that aren't readily available, and read them when Ellie visits.
"Therapy dogs are important in the classroom because they provide unique and additional ways of learning," Van Dorn said. "Ellie Rose is non-judgmental and comforting to the students, assisting in a boost of their confidence levels."
Pets Best debuted the Books & Barks contest in the summer of 2014, after seeing the positive effects of incorporating therapy dogs into classroom and library programs. The contest brought in hundreds of heartfelt, inspirational entries from all corners of the country. Pets Best hosts the Books & Barks contest annually, with the next contest scheduled for spring 2016. Follow Pets Best on Facebook and Twitter to stay informed about important contest dates.
"Pets Best is pleased to see a significant increase in participation for our second Books & Barks contest," said Chris L. Middleton, president of Pets Best. "We recognize the meaningful impact therapy dogs have on students in an educational setting and we are eager to help bring awareness for years to come."
For more information about the Books & Barks contest, visit www.petsbest.com/blog/books-and-barks-contest.
About Pets Best Insurance Services, LLC
Dr. Jack L. Stephens, founder and director of Pets Best, founded pet insurance in the U.S. in 1981 with a mission to end euthanasia when pet owners couldn't afford veterinary treatment. Dr. Stephens went on to present the first U.S. pet insurance policy to famous television dog Lassie. Pets Best provides coverage for dogs and cats. Dr. Stephens leads the Pets Best team with his passion for quality pet care and his expert veterinary knowledge. He is always available to answer questions regarding veterinary medicine, pet health and pet insurance. The Pets Best team is a group of pet lovers who strive to deliver quality customer service and value. Visit www.petsbest.com for more information.
Pet insurance coverage offered and administered by Pets Best Insurance Services, LLC is underwritten by Independence American Insurance Company, a Delaware insurance company. Independence American Insurance Company is a member of The IHC Group, an organization of insurance carriers and marketing and administrative affiliates that has been providing life, health, disability, medical stop-loss and specialty insurance solutions to groups and individuals for over 30 years. For information on The IHC Group, visit: www.ihcgroup.com. Additional insurance services administered by Pets Best Insurance Services, LLC are underwritten by Prime Insurance Company. Each insurer has sole financial responsibility for its own products.
Pets Best is a proud member of the North American Pet Health Insurance Association (NAPHIA).
###