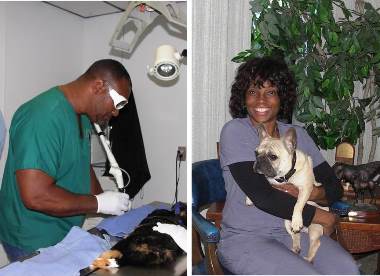 Five years ago, Pets Best developed the My Vet's the Best Contest to acknowledge notable veterinarians around the nation. November concludes our final contest of 2015, and we're again moved by the thousands of pet owners who shared heartfelt stories in nominating their vets for outstanding service and compassionate care. As we announce our seven finalists, it is clear that many selfless veterinarians around the nation are making a tremendous impact upon the pets and pet owners in their local communities. Meet Doctors Bill and Kim Mitchell who are such veterinarians and finalists in the third round of this year's contest.
Licensed to practice veterinary medicine since 1988 and 1990 (respectively), husband and wife team Dr. Bill Mitchell and Dr. Kim Mitchell attended Tuskegee University in Alabama before joining Bristow Veterinary Hospital. Both veterinarians perform acupuncture and offer other treatments as affordably as possible.
The Mitchells also set aside one day a month to perform low-cost spay/neuter surgeries at their clinic for low-cost families—all to benefit Fix 5000, a project dedicated to addressing pet overpopulation. In their spare time, both doctors are physically active; Dr. Kim enjoys going to yoga classes and Dr. Bill likes to work out at the gym. Read on for our Q&A with Doctors Bill and Kim Mitchell.
What do you enjoy most about being a veterinarian?
[We enjoy] being an integral part in helping to sustain the immeasurable bonds that exist between a pet and owner.
What makes you unique in your field?
We are fortunate to be able to harness the benefits of Western and Eastern acupuncture medicine to better serve our patients and their families, thereby increasing the possibility of a positive treatment outcome.
Do you talk to your clients about pet insurance?
Yes, frequently.
What does it mean to you to be nominated for this award?
The improvement of the health of our patients is our goal but this nomination indicates that our work to that end is appreciated.
What would you like to say to your clients and community who nominated and voted for you?
This is a very unexpected surprise. We are flattered by this recognition. Thank you so much!
If you win the contest with the most votes, how do you plan to use your $1,000 prize?
[We'd like to] take the staff and spouses to an appreciation event. In addition, we'd like to use these funds to register for further ultrasonography courses.
Fun Pet Fact:
When Dr. Kim and Dr. Bill aren't caring for their pet patients, they enjoy spending time at home with their own animals. "As our kids have left for college, our appreciation for the place they hold in our lives and our hearts has been amplified," say the Mitchells. "Our Frenchie Mr. Pickles spends many an evening on our laps, while alongside us on the sofa is our geriatric, wise sage-like Chihuahua. Our bull mastiff is not surprisingly the most submissive and has yet to figure out that he is not quite as lap-ready as the rest of the crew."
If you enjoyed reading about Dr. Kim and Dr. Bill Mitchell, stay tuned to our blog, where we will share in-depth Q&A sessions we held with the remaining finalists. Learn more about the My Vet's the Best Contest by clicking here. You may vote for the Mitchells or any of the other finalists once a day through November 12th, 2015 on the Pets Best Facebook page.