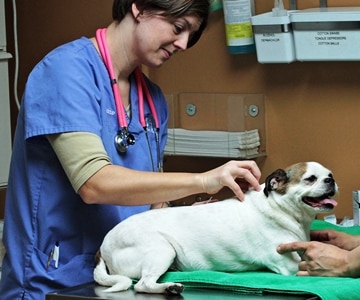 Five years ago, Pets Best developed the My Vet's the Best Contest to acknowledge notable veterinarians around the nation. November concludes our final contest of 2015, and we're again moved by the thousands of pet owners who shared heartfelt stories in nominating their vets for outstanding service and compassionate care. As we announce our eight finalists, it is clear that many selfless veterinarians around the nation are making a tremendous impact upon the pets and pet owners in their local communities. Meet Dr. Tina Marcotte who is one such veterinarian and a finalist in the third round of this year's contest.
After receiving her DVM from the University of Illinois in 2002, Dr. Marcotte practiced at an AAHA-accredited dog and cat hospital in Evanston, then spent the next five years working in a busy emergency room treating injured and critically ill dogs, cats, birds, reptiles, and small mammals. She returned to general practice in 2009, and currently works as a veterinarian at Green Paws Veterinary Care in La Grange, Illinois. Her current area of interest is exploring alternative therapies and their integration with traditional medical treatments.
Dr. Marcotte enjoys spending her time at home with her children and pets. She also likes to travel, especially when it involves camping trips with her family. Read on for our Q&A with Dr. Marcotte.
What do you enjoy most about being a veterinarian?
I love interacting with pets, but also with their owners. Seeing the bond that pets and owners share is amazing and I love that I get to be a part of that.
What makes you unique in your field?
I like to think that here at Green Paws, we think outside the box a little. We don't like to treat pets like a number; we take the time to really listen to owners and find a solution that works for each individual pet. No two pets are ever the same and we recognize that.
Do you talk to your clients about pet insurance?
We have definitely started talking to owners about insurance over the past few years. It really makes a difference when an animal is ill or injured and the level of care that can be provided.
What does it mean to you to be nominated for this award?
It really means the world to me! I love what I do and thinking that I've helped even just one person with their pet is so rewarding!
What would you like to say to your clients and community who nominated and voted for you?
A huge thank you—I truly feel honored.
If you win the contest with the most votes, how do you plan to use your $1,000 prize?
We would love to establish a charity fund for owners that need financial help with their pets! We ask the staff to nominate and vote for pets and owners that really need our help.
Fun Pet Fact:
Currently, Dr. Marcotte owns three dogs, a cat, a bird, two chinchillas, two fish, and six backyard chickens. She also provided care for a couple of squirrels in recent years, and now that they're released, they still like to hang out in the family's yard. "I'm not sure how I could do this for a living without having a house full of pets," says Dr. Marcotte.
If you enjoyed reading about Dr. Marcotte, stay tuned to our blog, where we will share in-depth Q&A sessions we held with the remaining finalists. Learn more about the My Vet's the Best Contest by clicking here. You may vote for Dr. Marcotte or any of the other finalists once a day through November 12th, 2015 on the Pets Best Facebook page.