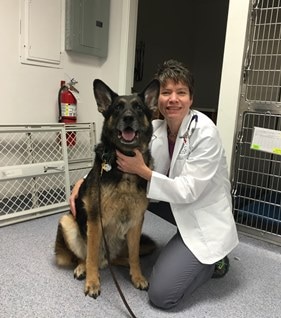 Five years ago, Pets Best developed the My Vet's the Best Contest to acknowledge notable veterinarians around the nation. November concludes our final contest of 2015, and we're again moved by the thousands of pet owners who shared heartfelt stories in nominating their vets for outstanding service and compassionate care. As we announce our seven finalists, it is clear that many selfless veterinarians around the nation are making a tremendous impact upon the pets and pet owners in their local communities. Meet Dr. Morna Pixton who is one such veterinarian and a finalist in the third round of this year's contest.
Born in Berkeley, California, Dr. Pixton grew up in upstate New York, then graduated cum laude from Yale University. She later attended Cornell University's College of Veterinary Medicine, where she graduated with honors. Dr. Pixton joined Guilford Veterinary Hospital and became a partner at the hospital in 2008.
When she isn't working at the veterinary hospital, she enjoys the theater, hiking, cooking, gardening, and spending time with her 8-year-old twin boys and their pets. Read on for our Q&A with Dr. Pixton.
What do you enjoy most about being a veterinarian?
I love the detective work I get to do to solve medical problems, and also the close bonds I develop with animals and their people. It's wonderful to be part of their life, sometimes from beginning to end, and know that I've made a difference in how happy and healthy the human-animal relationship is.
What makes you unique in your field?
I have a special interest in behavior, and that allows me to treat animals with a deeper understanding, and a point of view that goes beyond just the physical concerns.
Do you talk to your clients about pet insurance?
Yes, I generally recommend insurance to all my clients.
What does it mean to you to be nominated for this award?
It's wonderful! It is really great to be recognized for what I love to do and feel passionately about.
What would you like to say to your clients and community who nominated and voted for you?
Thank you very much and I hope we can continue to work together!
If you win the contest with the most votes, how do you plan to use your $1,000 prize?
It would go to my hospital's Woofus Fund, which we use to treat pets that need financial aid.
Fun Pet Fact:
Dr. Pixton owns an 11-year-old Standard poodle, Talia, and two "sweet and charming" 3-year-old brother and sister Siamese cats, Imriel and Sasha.
If you enjoyed reading about Dr. Pixton, stay tuned to our blog, where we will share in-depth Q&A sessions we held with the remaining finalists. Learn more about the My Vet's the Best Contest by clicking here. You may vote for Dr. Pixton or any of the other finalists once a day through November 12th, 2015 on the Pets Best Facebook page.