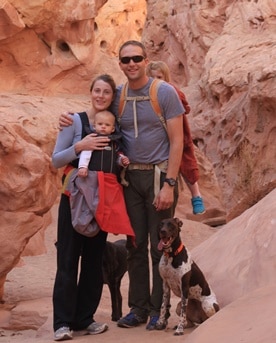 Five years ago, Pets Best developed the My Vet's the Best Contest to acknowledge notable veterinarians around the nation. November concludes our final contest of 2015, and we're again moved by the thousands of pet owners who shared heartfelt stories in nominating their vets for outstanding service and compassionate care. As we announce our seven finalists, it is clear that many selfless veterinarians around the nation are making a tremendous impact upon the pets and pet owners in their local communities. Meet Dr. Jess Anderson who is one such veterinarian and a finalist in the third round of this year's contest.
After growing up in Spokane, Washington, Dr. Anderson attended college in Utah, completing his bachelor's degree in animal science at BYU. He then attended veterinary school at Washington State University. Today, he practices at Timpanogos Animal Hospital in Pleasant Grove, Utah, and enjoys working with pets and their families to strengthen the human-animal bond.
Dr. Anderson is happily married with two kids, and has three pets: Ivy, an energetic six-year-old pointer who accompanies him on mountain bike rides; his very first dog Maggie; and Amos the cat, who allows himself to be dressed up by the younger family members. When he isn't caring for his patients at the animal hospital, Dr. Anderson enjoys spending time outdoors. Whether it's fishing, hiking, camping, jogging, or biking, he prefers to have at least one dog and one of his kids by his side. Read on for our Q&A with Dr. Anderson.
What do you enjoy most about being a veterinarian?
People bring their pets to me because they are worried about them. They bring them when they are healthy so that I can help keep them healthy through preventive care. They bring them when they're sick or injured so that I can help make them better. They bring them when they are old, in pain, or suffering so that I can help them know what problems we can fix, what problems we can alleviate, and what we can do little for. When it's time, I help them to know that it's OK to let them go. Being a veterinarian involves much more than prescribing medication and performing treatments. I help support and extend the bond that people have with their pets. I get to be a part of that bond. This is what I like most about being a veterinarian.
What makes you unique in your field?
As you may imagine, I know a fair number of veterinarians. I feel that we are all unique in our field. Each brings his or her own experiences and perspective to the field.
Within just a minute or two of meeting a client, I can usually find some common ground with them. I find it easy to see an issue or problem from many different perspectives without making judgments as to whether those perspectives are right or wrong. I feel like after meeting with people, I can put them at ease whether they are nervous, anxious, or upset.
Do you talk to your clients about pet insurance?
I do. I write articles for a couple of local pet-focused publications. I wrote one article for the January edition of the magazine about goals involving pets. My advice to readers was the same as my advice to my clients—set a goal to get an insurance plan for your pet or to start a savings account dedicated to your pet's care. Pet insurance is affordable, and the odds are pretty good that you are going to be glad you have it. Dogs and cats live much shorter lives than people. They have to fit not only all their years of happiness into that short time, but their whole life's worth of sickness and injury. Get pet insurance, you'll be glad you did.
What does it mean to you to be nominated for this award?
I feel grateful to be nominated for this award. It means a great deal that a client took the thought and time to nominate me. It's so easy when you're pleased with an experience at a hospital or other business to be content and go about your way. It's both refreshing and reassuring to know that people put forth the effort to spread something positive.
What would you like to say to your clients and community who nominated and voted for you?
Thank you. I appreciate your initiative and effort.
If you win the contest with the most votes, how do you plan to use your $1,000 prize?
Our hospital will use it as part of our Good Samaritan Fund to help pets when owner finances are limited.
Fun Pet Fact:
Dr. Anderson adopted his first dog Maggie from the Spokane Humane Society during his third year of vet school, after she was spayed by a classmate as part of the school's surgical instruction. "When I moved from Washington to Utah, she sat on my lap the whole way in the moving van," says Dr. Anderson. "She has been a great friend. Now, she's almost 14 and is blind and nearly deaf. Her life these days consists mainly of naps, punctuated with periods of excitement, especially when it's time for breakfast or dinner."
If you enjoyed reading about Dr. Anderson, stay tuned to our blog, where we will share in-depth Q&A sessions we held with the remaining finalists. Learn more about the My Vet's the Best Contest by clicking here. You may vote for Dr. Anderson or any of the other finalists once a day through November 12th, 2015 on the Pets Best Facebook Page.