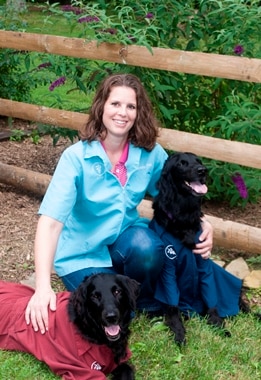 Each year, Pets Best receives thousands of nominations for our annual My Vet's the Best Contest—a contest developed to acknowledge the best veterinarians around the nation. This year, we've again completed the arduous process of selecting a group of finalists and we are pleased to announce the top seven.
Meet Dr. Greta Stamberg of Clarksburg Animal Hospital in Maryland. Dr. Stamberg was raised on a small farm in rural Barnesville, only a few miles from the clinic. She spent much of her childhood around animals—she rode horses, helped her family breed and raise sheep, and her mother showed Newfoundlands, so Dr. Stamberg was exposed to canine handling and training from an early age. She received her Bachelors degree in Animal Science from Cornell University, and graduated from Virginia-Maryland Regional College of Veterinary Medicine (Virginia Tech) in 1998.
During college, Dr. Stamberg worked as a technician and also remained actively involved in her family's llama breeding program. After graduation, she worked at a local practice for 5 years. In 2004, Dr. Stamberg's dream of owning her own practice came true as she opened the doors to Clarksburg Animal Hospital—a clinic housed in a historic building which was once home to the town's post office. In her spare time, Dr. Stamberg enjoys spending time with her husband Dewey, their son Trevor, and their cat Blinker. You can also find her hiking with the family's two flat-coated retrievers, Maddie and Daphne.
What do you enjoy most about being a veterinarian?
My favorite thing about being a veterinarian is the relationships I develop with my clients and my patients. The better I get to know them, the better the job I can do for them. No two clients or patients are the same and it doesn't work to deal with all of them the same. Essentially everyone gets a customized approach based on what I have learned about them. I practice in an area where I grew up, worked as a tech during school and have practiced 17 years as a vet. I cherish the local history I have as well as my personal and professional growth that has resulted from all those relationships.
What makes you unique in your field?
The time I take to talk to and listen to clients and get to know them. It doesn't make me the most efficient all the time, but I am more thorough and provide the type of interaction and care that I would expect. I also have a great team who is on board with my approach and make it even easier to give patients and clients the time necessary to do a great job. Clients have relationships with them too, not just me.
Do you talk to your clients about pet insurance?
We always provide information about insurance for puppies and kittens and discuss it with many other clients. I have seen it be a huge relief for a lot of families when faced with big medical decisions. They weren't also faced with big financial decisions at the same time. We are in an area rich with specialists and great opportunities for advanced care, but it can be more costly and insurance makes it all more possible.
What does it mean to you to be nominated for this award?
I am very honored to be nominated for this award. I'm not really one to run around promoting myself. I would rather let my actions speak for me. It is very heartwarming to hear how I have positively impacted others and to know that the time and effort I put in does help my clients and patients in a deep and profound way. Good listening skills and the ability to connect with someone face-to-face is becoming a lost art in today's digital world. I think it is critical to my job and wouldn't know how to be a veterinarian without it.
What would you like to say to your clients and community who nominated and voted for you?
I would like to thank them for noticing what we do and making myself and my team feel appreciated. I work in a community next door to where I grew up. Supporting the community and creating lasting relationships are the core principles of my practice. I have a great team who really embodies these core principles and makes it possible to really connect with everyone. We are honored to be recognized but I am seeking votes in order to pay it forward to some of our clients who need the help.
If you win the contest with the most votes, how do you plan to use your $1,000 prize?
We definitely have clients who try very hard to do the best for their pets within their financial means. We encourage utilizing pet insurance, but not everyone chooses to do that. My team and I would meet to decide how best to split up the $1000 prize to generate the largest impact for the clients most in need of help.
Fun Pet Fact:
At Clarksburg Animal Hospital, the clinicians have a little help from their friends when it comes to caring for pets in need—in the early years of Dr. Stamberg's practice, her two flat-coated retrievers were regular visitors to the clinic. They still stop by from time to time.
If you enjoyed reading about Dr. Stamberg, we invite you to stay tuned to our blog, where we will be sharing the in-depth Q&A sessions we held with the remaining finalists. To learn more about the My Vet's the Best Contest, click here. You may vote for Dr. Stamberg or any of the other finalists once a day through July 23rd, 2015 on the Pets Best Facebook page.