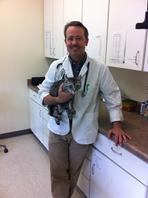 Five years ago, Pets Best developed the My Vet's the Best Contest to acknowledge notable veterinarians around the nation. November concludes our final contest of 2015, and we're again moved by the thousands of pet owners who shared heartfelt stories in nominating their vets for outstanding service and compassionate care. As we announce our eight finalists, it is clear that many selfless veterinarians around the nation are making a tremendous impact upon the pets and pet owners in their local communities. Meet Dr. Denny Simonton who is one such veterinarian and a finalist in the third round of this year's contest.
After receiving his undergraduate and veterinary degrees from Colorado State University, Dr. Simonton went on to practice both large and small animal medicine in Eagle, Idaho and Parker, Colorado. However, in 1989 he joined Dr. Julie Hunter-Alt as a partner and co-owner at Castle Peak Veterinary Service in Eagle Valley, Colorado, where he continues to practice veterinary medicine.
His veterinary-related interests include internal medicine, soft-tissue surgery, orthopedics—including surgical repair of anterior cruciate ligament injuries—and cancer chemotherapy. He is a member of the Veterinary Cancer Society.
Dr. Simonton lives in Eagle, Colorado with his wife and three sons, as well as their two dogs, Pommy and Enzo, and a Maine coon named Walter. He also enjoys fly-fishing, telemark skiing, golfing, and hiking with his family in his free time. Read on for our Q&A with Dr. Simonton.
What do you enjoy most about being a veterinarian?
Helping pets and their owners through wellness care or in treating illness or injury to ensure the highest quality of life possible. I appreciate the bond people have with their pets, and I enjoy the long-term relationships that I have with pets and their owners.
What makes you unique in your field?
I don't think that I am unique in my field. There are many veterinarians that care as much as I do.
Do you talk to your clients about pet insurance?
Yes.
What does it mean to you to be nominated for this award?
It means a lot to me because it comes from my clients.
What would you like to say to your clients and community who nominated and voted for you?
Thank you for letting me care for your pets and to be a part of their lives. Unfortunately, for most pets that feeling is probably not mutual.
If you win the contest with the most votes, how do you plan to use your $1,000 prize?
Unfortunately, a significant number of clients cannot afford optimal care for their pets, and this money would go toward helping them or to serve as seed money for a longer and ongoing pet wellness fund.
Fun Pet Fact:
While still poorly housetrained, the Simonton family's Pomeranian ("Pommy") is affectionate and serves as a reliable hiking companion. "He's climbed many mountains with me," says Dr. Simonton.
If you enjoyed reading about Dr. Simonton, stay tuned to our blog, where we will share in-depth Q&A sessions we held with the remaining finalists. Learn more about the My Vet's the Best Contest by clicking here. You may vote for Dr. Simonton or any of the other finalists once a day through November 12th, 2015 on the Pets Best Facebook page.