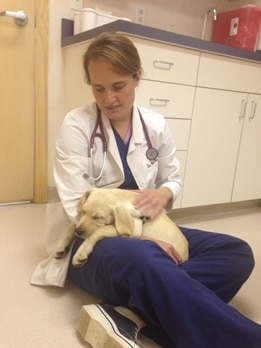 Five years ago, Pets Best developed the My Vet's the Best Contest to acknowledge notable veterinarians around the nation. November concludes our final contest of 2015, and we're again moved by the thousands of pet owners who shared heartfelt stories in nominating their vets for outstanding service and compassionate care. As we announce our eight finalists, it is clear that many selfless veterinarians around the nation are making a tremendous impact upon the pets and pet owners in their local communities. Meet Dr. Corrina Parsons who is one such veterinarian and a finalist in the third round of this year's contest.
After graduating from the University of Pennsylvania in 1999, Dr. Parsons completed an internship in large animal medicine and surgery at the University of Georgia. She then completed a residency at New Bolton Center in 2002, and received acupuncture training from Colorado State University. Her interests include internal medicine (in which she is board certified) and alternative medicine. She now practices at Longwood Veterinary Center in Kennett Square, Pennsylvania.
Dr. Parsons and her husband have two young children and own a small farm, where they look after "a menagerie of pets and farm animals," including two Corgis, several cats, chickens, sheep, and horses. The Parsons spend their free time working on the farm, caring for their animals, and playing with their kids. "It's a nice place to call home and my favorite place in the world to be," says Dr. Parsons.
What do you enjoy most about being a veterinarian?
I cannot deny that some of the greatest satisfaction I derive from my profession occurs while performing interventions or surgical procedures that without a doubt "saved" an animal's life. However, the small "saves" that we as veterinarians make daily such as helping an arthritic pet become more comfortable, or working through a pet's behavioral issue to allow client and pet to peacefully and happily coexist—these are the best things about my profession.
What makes you unique in your field?
I have a very interesting back-story that ultimately led me to becoming a small animal veterinarian. During veterinary school I wanted to become a large animal veterinarian with the intent of remaining in academia and perhaps pursuing field research. This led to board certification in large animal internal medicine and extensive coursework in Epidemiology. However, I love all aspects of medicine and have also studied alternative therapies including acupuncture. When I ultimately decided to pursue small animal practice, it was obviously a good fit. However, my unusual background allows me to discuss an array of different options to manage a particular animal's problem. I love to welcome alternative approaches while looking hard at the science behind it!
Do you talk to your clients about pet insurance?
Absolutely, every puppy and kitten visit (and wellness visits later in life) includes a heart-to-heart reality check involving the cost of keeping a pet healthy as well as options to afford care. I grew up in an animal-loving family. We loved our pets but we were not wealthy. As a teenager I remember having to put our dog to sleep due to a medical condition that we could afford to treat. I take seriously my responsibility to help clients understand the current cost of pet health care.
What does it mean to you to be nominated for this award?
Honestly, I was so humbled to learn of my nomination and wasn't sure I was worthy of the attention. It is difficult to describe just how much this nomination means to me.
What would you like to say to your clients and community who nominated and voted for you?
A very sincere thank you. Today's world is a busy place. The fact that my nominator took the time to stop and write a letter recommending me for this award—that is just so special and kind. To be appreciated to this extent, it's amazing.
If you win the contest with the most votes, how do you plan to use your $1,000 prize?
I have always been intrigued and deeply touched by the human animal bond, not only how animals serve us as friends and companions, but also how they help us survive. Mankind would not have advanced to our current status without the help of two species in particular; the equine and the dog. Being that I love to root for the underdog, I have in particular a soft spot for donkeys and mules. These animals toil tirelessly throughout the world, receiving little respect and often poor care. America could not have been built without them. I have a particular rescue in New England, Save Your Ass Longear Rescue, that rescues donkeys and mules. I try to donate to them each year. I also have a unbelievable admiration towards all service dogs. I love the focus of Mission K-9 Rescue, a group dedicated to reuniting military service dogs with their handlers. I would also share the reward with them.
Fun Pet Fact:
Dr. Parsons adopted Ransom, one of her horses, when he was just a foal. Ransom's owners abandoned him because "his racing future was never to be realized" due to numerous medical issues. "As his doctor I fell in love with him and adopted him," she recalls. "Our Labrador retriever—who passed away recently—was also great friends with [Ransom], and they grew up together. He's been my dream horse and a great friend."
If you enjoyed reading about Dr. Parsons, stay tuned to our blog, where we will share in-depth Q&A sessions we held with the remaining finalists. Learn more about the My Vet's the Best Contest by clicking here. You may vote for Dr. Parsons or any of the other finalists once a day through November 12th, 2015 on the Pets Best Facebook page.