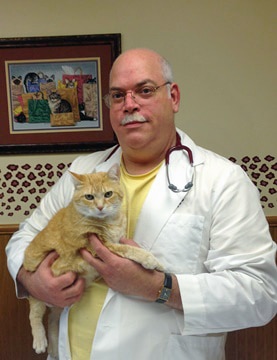 Each year, Pets Best receives thousands of nominations for our annual My Vet's the Best Contest—a contest developed to acknowledge the best veterinarians around the nation. This year, we've again completed the arduous process of selecting a group of finalists and we are pleased to announce the top seven.
Meet Dr. Arthur Hulshizer (also known as "Dr. Bud") of Community Veterinary Practice in Bath, Pennsylvania. Dr. Bud graduated from Delaware Valley College of Science and Agriculture in 1985, then went on to receive a Master of Science Degree in Biology from East Stroudsburg University. In 1993 he graduated from the University of Pennsylvania School of Veterinary Medicine.
With 22 years of experience in the veterinary field, Dr. Bud worked at several private veterinary hospitals and a local emergency hospital. In 2006, he started his own private practice. In his free time, Dr. Bud enjoys reading, relaxing at the beach, and spending time with friends and family. His other love is art, and he looks forward to when he can spend more time painting.
What do you enjoy most about being a veterinarian?
I enjoy the thank yous—either written or verbal—I receive from a client for the care of their pet. It's the best thing a client could ever do for me; it's a great feeling that the owner appreciates me. I have every thank you card a client has ever sent me since I started working as a veterinarian in 1993. Yes, that's 22 years of service and that's a lot of cards.
What makes you unique in your field?
When I started in the veterinary field, I would tell owners what to do. I learned quickly that this may not be the approach I should take. Over the years, I began providing the owner [with more] information and now give them options in treating their pets (I'm told sometimes too many options), but each case is different and should be treated as such—and not with a "cookie cutter" approach to medicine. My approach is: If this, then that.
Do you talk to your clients about pet insurance?
Absolutely. With veterinary medicine advancing in technologies, treatments, and diagnostics, cost for these services can be very pricey. With insurance, these treatment goals are more reachable for a client to provide their pet the care that they need.
What does it mean to you to be nominated for this award?
This answer kind of goes back to the first question: recognition. Thank you.
What would you like to say to your clients and community who nominated and voted for you?
Sometimes there are days where you wonder, "Am I doing a good job?" Well, this is another way to show appreciation for my continued work in the community. It makes me feel good.
If you win the contest with the most votes, how do you plan to use your $1,000 prize?
The best thought I have right now is to give the prize to a local shelter.
Fun Pet Fact:
Dr. Bud's pets include Frieda (formerly known as "Fred"), a Severe Macaw he rescued 21 years ago after the previous owner planned to euthanize the bird due to feather picking. After the adoption, Dr. Bud learned "Fred" was actually a female.
If you enjoyed reading about Dr. Bud, we invite you to stay tuned to our blog, where we will be sharing the in-depth Q&A sessions we held with the remaining finalists. To learn more about the My Vet's the Best Contest, click here. You may vote for Dr. Bud or any of the other finalists once a day through July 23rd, 2015 on the Pets Best Facebook page.