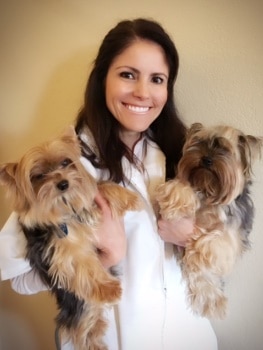 Do you know a veterinarian who has made a powerful impact on your fur family?  In 2010, Pets Best developed the first-of-its-kind My Vet's the Best Contest — with the purpose of allowing pet owners around the nation to acknowledge these professionals for their outstanding service and compassionate care. Yet again, we've received hundreds of submissions for our final contest of 2016, and are pleased to announce the finalists. The stories that follow are a testament to the many ways veterinarians are making a difference, both in their local communities and beyond. Meet Dr. Sylvia Gutierrez, our first finalist.
Dr. Gutierrez received her Bachelor of Science Degree in Animal Physiology from Purdue University in 1990, where she also attended veterinary school. She worked at the Wild Animal Park and Avian and Exotic Animal Hospital of San Diego before joining Stonebriar Veterinary Centre Hospital in Frisco, Texas, where she has practiced since 2005. Her areas of special interest include internal medicine, dermatology, soft tissue surgery, and small mammal medicine. Dr. Gutierrez is a member of the American Veterinary Medical Association, the Texas Veterinary Medical Association, and the American Association of Mammalian Veterinarians.
In her spare time, she enjoys spending time with my family, whether that means traveling and skiing with her husband of 17 years, Michael, or driving her two sons to Jujutsu, golf, and baseball. She also serves on the board of directors for Mosaic Family Services, a comprehensive non-profit agency that serves victims of human trafficking and domestic violence in the Dallas community. The organization's temporary shelter offers legal and counseling services to its clients and their children, and Dr. Gutierrez finds helping these women and children to be a most satisfying experience. Read on for our Q&A with Dr. Gutierrez.
Why did you decide to become a veterinarian?
I decided to become a veterinarian when I was very young. I was determined to become one as a child and never even thought of the possibility of doing anything else. I had dozens of different animals growing up. I loved to take care of them and nurse them to health when they were sick. Besides loving my own pets, I noticed other animals that were homeless or in pain, neglected and even in abused situations. These bothered me tremendously and I knew that by becoming a veterinarian I could be an animal advocate.
What do you enjoy most about being a veterinarian?
I love to come to work every day and give my patients the best medical care possible. \ I enjoy the preventative care I can give to my patients so they can live a longer, healthier, happy life. The friendships I have made with my clients are also one of the things I love the most about being a veterinarian.
What makes you unique in your field?
I am very fortunate to have been able to practice veterinary medicine for over 20 years. I think experience is priceless in our field. Not only is the practical side important but also the personal experience of having my own special four-legged babies that I adore. I think it is comforting for our clients to know that I have been through some of the same difficult experiences and have had to make some tough decisions as well. Beyond that, being born and raised in Puerto Rico, I have the benefit of being fluent in Spanish. I also love exotic medicine, especially rabbits. Many veterinarians shy away from exotics, but I embrace the challenge of these special species.
Do you talk to your clients about pet insurance?
I believe pet insurance is a fantastic decision for pet owners. There are so many different plans and options for clients. We have a very high percentage of clients that currently carry insurance for their pet and the vast majority are extremely happy. We discuss pet insurance at our first puppy visit and explain how it is especially helpful in case of an emergency or even an unplanned surgery.
What does it mean to you to be nominated for this award?
I am very honored to be nominated for this award. I am so fortunate to be able to do what I love every day, and to be recognized for it is just the icing on the cake.
What would you like to say to your clients and community who nominated and voted for you?
To the clients and community who nominated and voted for me, I can only say I am humbled. I am lucky to know all your loving, amazing pets and so thankful you trust me with their care.
If you win the contest with the most votes, how do you plan to use your $1,000 prize?
I am excited about the possibility of winning this contest in order to offer a much-needed extensive dental treatment to a little Shih Tzu who is in desperate need. His mouth is very uncomfortable and infected but mom is going through some tough times and cannot afford it.
Fun Pet Fact:
Dr. Gutierrez has two Yorkies: eight-year-old Franco, the "protector of the household," and five-year-old Lego, a shy rescue. "I adopted Lego from a lady who did not want him since she could not show him," explains Dr. Gutierrez. "He was 'too big' and his hair was a little 'too curly'. [But] we think he is perfect!"
If you enjoyed reading about Dr. Gutierrez, continue to visit our blog, where we will share in-depth Q&A sessions held with the remaining finalists. Learn more about the My Vet's the Best Contest by clicking here. You may vote for Dr. Gutierrez or any of the other finalists once a day through Thursday, November 17th, 2016 on the Pets Best Facebook page.