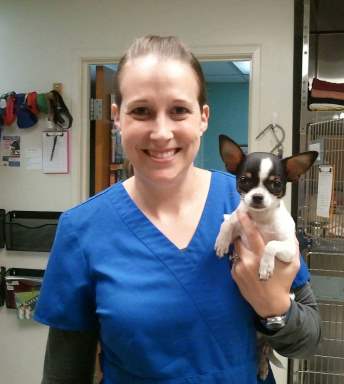 You likely know a veterinarian who has made a powerful impact on your family or in the community. In 2010, Pets Best developed the My Vet's the Best Contest to acknowledge these professionals for their outstanding service and compassionate care. Every year we receive hundreds of submissions from pet owners around the nation, and our first contest of 2017 is no different. We are again pleased to announce our finalists, along with corresponding stories that illustrate the many ways veterinarians are making a difference in their local communities and beyond. Meet Dr. Stephanie Hickey.
Dr. Hickey has loved animals her entire life. At just ten years old, she told her mother she was going to be a vet — and the rest is history. She received her bachelor's degree in biochemistry at The University of Tennessee, then attended U.T.'s School of Veterinary Medicine where she graduated in 2008. That same year, Dr. Hickey joined Admiral Veterinary Hospital as a full-time vet, where she worked as an associate until purchasing the hospital with her husband Charlie in 2014 — an experience she says was a dream come true.
As a strong advocate for animals being served by rescue groups, Dr. Hickey is the president of The Knox County Animal Cruelty Alliance, a group that creates ordinances on the local level to better care and strengthen laws with regards to cruelty to animals. Dr. Hickey helps provide care to animals that have been neglected and need love and attention. She fosters homeless dogs until they can find homes of their own and is a coordinator for two rescue groups, Lucky Star Cavalier Rescue and Tri-State Collie Rescue. She also shows dogs in agility, conformation and is getting into sheep herding. "Animals are my passion," says Dr. Hickey. "I love the bond I'm able to form with my clients and their pets. Seeing generations of people and their pets from the same family is wonderful."
When Dr. Hickey isn't bonding with her animal friends, she is active as a deacon at her church, plays the clarinet in the church orchestra, and plays baseball with her husband and son. "I love my community, my hospital, and my church and I pour every ounce of myself into helping those (pet and people) in need," she says. Read on for our Q&A with Dr. Hickey.
Why did you decide to become a veterinarian?
Honestly I went into it to help people. The love of animals was a given for the example profession but it takes a good relationship with a pets owner to really be a good veterinarian. Not only have I helped pets but also have spent hours talking to people about deaths in their family, divorces, illness, and much more. The relationships I've built with the people in this profession is like family and I feel called to go beyond helping animals but to go deeper and do my very best to be there for my clients.
What do you enjoy most about being a veterinarian?
The love that people have for their animals and the passion I see in a rescuers eyes to help an animal in need. Those are the good days when you save a client's pet or you make that adoption happen! That makes me happiest to be able to see the happiness on a person's face when they have just adopted a pet or you've just told them their pet will be OK!
What makes you unique in your field?
I do a lot of specialty dentistry for my area. While not being a boarded veterinary dentist, I can offer those services to those who would not otherwise have access or be able to afford. A healthy mouth leads to a healthy body! I also have several close working relationships with rescue groups who take in cats and dogs in need. A large portion of my personal time and energy is spent rescuing animals, vetting them, screening potential owners and adopting them out. We have almost daily adoptions in our hospital lobby! That relationship with rescue has fostered a lot of goodwill in the community and I'm proud of that fact. Pets, clients, rescues, and myself all benefit from our great working relationship.
Do you talk to your clients about pet insurance?
Yes. Insurance is an important part of helping you budget for your pet's care. Having that already in place can help ease financial decisions as most pets will have a major medical issue at some point in their lifetime.
What does it mean to you to be nominated for this award?
I am truly honored and humbled. I never go looking for accolades but it is nice to be recognized for all the hard work and time it takes to be a veterinarian. I'm hoping the nomination will bring awareness to my beloved rescue groups such as Lucky Star Cavalier Rescue and Tri-State Collie Rescue. If even one adoption, donation, or volunteer is gained for those groups, it would make me very happy!
What would you like to say to your clients and community who nominated and voted for you?
Thank you for considering me! My clients and rescue friends are like family, we even hang out outside the hospital setting. My passion for rescue and pet dentistry has brought me this far and am so grateful to everyone who votes for me.
If you win the contest with the most votes, how do you plan to use your $1,000 prize?
I will donate all to my rescue groups and continue my rescue work of animals in need.
Fun Pet Fact:
Dr. Hickey has four dogs that are mostly rescues: two Cavalier King Charles Spaniels and two collies, one of which is her little boy's "best friend — a true Timmy and Lassie." She has done "agility with my female Cavalier Ginger and loved every minute," says Dr.