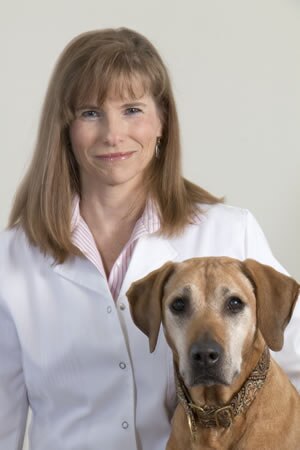 You likely know a veterinarian who has made a powerful impact on your family or in the community. In 2010, Pets Best developed the My Vet's the Best Contest to acknowledge these professionals for their outstanding service and compassionate care. Every year we receive hundreds of submissions from pet owners around the nation, and our first contest of 2017 is no different. We are again pleased to announce our finalists, along with corresponding stories that illustrate the many ways veterinarians are making a difference in their local communities and beyond. Meet Dr. Nancy Rich.
After graduating from Purdue University, Dr. Rich joined Gahanna Animal Hospital, where she has practiced since November of 1989. She specializes in reproduction of AKC registered breeds and O.F.A. procedures and also treats rabbits, ferret and pocket pets.
Dr. Rich enjoys performing surgery and is exceptional in internal medicine. She is also the primary veterinarian for Columbus Cocker Rescue.
In her hours away from the hospital, Dr. Rich enjoys working on her farm or breeding and showing Rhodesian Ridgebacks. Read on for our Q&A with Dr. Rich.
Why did you decide to become a veterinarian?
Divine intervention. I have wanted to be a veterinarian since I was in the fourth grade.
What do you enjoy most about being a veterinarian?
Helping animals and in turn helping their people.
What makes you unique in your field?
I treat my patients as I would my own.
What does it mean to you to be nominated for this award?
Honored that a client/clients would consider me for this.
What would you like to say to your clients and community who nominated and voted for you?
Thank you so much — it is an honor and a blessing.
If you win the contest with the most votes, how do you plan to use your $1,000 prize?
Donate it to those in need: Gahanna Animal Hospital adoption program and Columbus Cocker Rescue.
Fun Pet Fact:
Dr. Rich has a small farm with horses, donkeys, chickens, cows, cats and several of her Rhodesian Ridgebacks.
If you enjoyed reading about Dr. Rich, continue to visit our blog, where we will share in-depth Q&A sessions held with the remaining finalists. Learn more about the My Vet's the Best Contest by clicking here. You may vote for Dr. Rich or any of the other finalists once a day through Thursday, June 15th, 2017 on the Pets Best Facebook page.