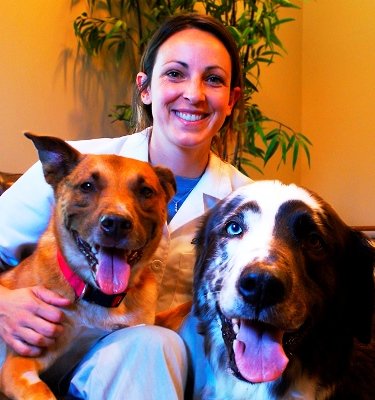 How much do you love your vet? In 2010, Pets Best developed the My Vet's the Best Contest—the first of its kind—to allow pet owners to acknowledge veterinarians around the nation for outstanding service and compassionate care. We've again received hundreds of submissions for our second contest of 2016, and are pleased to announce our latest finalists. Once more, we're pleased to see the tremendous impact veterinarians are making in their local communities. Meet Dr. Katie Buss, who is one such individual.
Dr. Buss received her Bachelor's Degree in Animal Science from the University of Vermont in 2004, and attended veterinary school at Colorado State University. Prior to practicing at Kings Veterinary Hospital in Loveland, Ohio, she worked in a rural mixed animal practice in Plymouth, New Hampshire, then in Denver, Colorado until 2014. Dr. Buss is certified in medical massage and medical acupuncture for animals, and her professional interests include pain management and internal medicine.
In her spare time, she enjoys reading, eating, gardening, playing volleyball, and hiking. She's also happy to relax and spend time at home with her husband, Jude, and the couple's wild animal pets. Read on for our Q&A with Dr. Buss.
Why did you decide to become a veterinarian?
I have wanted to be a vet as long as I can remember. I never had dolls, or play kitchens—just a variety of farm animals and My Little Ponies that I would be 'saving'. Also, My parents always let us have a variety of pets from lizards to hermit crabs to dogs and cats which allowed my fascination with animals to grow as a kid.
What do you enjoy most about being a veterinarian?
[I enjoy] being able to help or calm people and pets when they are in a scary or otherwise stressful situation. It is also incredible to help animals that are sick and watch them start to feel better [so they can] eat and wag their tails again and go home!
What makes you unique in your field?
I was first working as a livestock veterinarian, focusing on beef and dairy cows, alpacas, sheep and goats. Now I primarily [see] dogs and cats with a few family-run beef cowherds I get to help with a few times a year. I am also certified in veterinary acupuncture and medical massage, which is a really rewarding way to help some of our geriatric patients with their arthritis and to pamper them.
Do you talk to your clients about pet insurance?
Not all of them. [Owners of] breeds at higher risk for having significant medical expenses are usually who I talk to about it. If owners broach the topic we do discuss their options.
What does it mean to you to be nominated for this award?
It means a lot to me. Veterinarians work long hard hours and we worry and stress about each patient and their families. It feels really good to be noticed and appreciated for that—especially on the days we feel like we can't do anything right.
What would you like to say to your clients and community who nominated and voted for you?
I am very thankful and appreciative of anyone taking the time to think of me! I am a bleeding heart and the opportunity to have a fund to use for those patients and clients who are having a tough time and need some extra support is outstanding.
If you win the contest with the most votes, how do you plan to use your $1,000 prize?
There are so many families who are struggling and want to do their best for their pets but financially just cannot. This money [would] allow us to at least help a few of them.
Fun Pet Fact:
Dr. Buss admits she likes to never be able to leave the house without pet hair on her clothes. And given the size and fur-factor of her pet family, this isn't difficult. The Busses have two mixed breed dogs: Rick, "a wild Frisbee man that is non-stop and eats dinner in ten seconds flat," and Oscar, "a gentle soul that quietly rules the house" as well as two "sweet kitties who are in charge of rodent control—and attacking the dogs' tails."
If you enjoyed reading about Dr. Buss, stay tuned to our blog, where we will share in-depth Q&A sessions we held with the remaining finalists. Learn more about the My Vet's the Best Contest by clicking here. You may vote for Dr. Buss or any of the other finalists once a day through Thursday, July 28th 2016 on the Pets Best Facebook page.