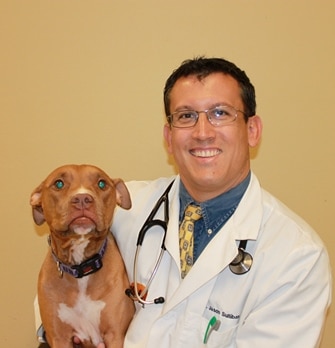 You likely know a veterinarian who has made a powerful impact on your family or in the community. In 2010, Pets Best developed the My Vet's the Best Contest to acknowledge these professionals for their outstanding service and compassionate care. Every year we receive hundreds of submissions from pet owners around the nation, and our first contest of 2017 is no different. We are again pleased to announce our finalists, along with corresponding stories that illustrate the many ways veterinarians are making a difference in their local communities and beyond. Meet Dr. Jason Sulliban.
Dr. Sulliban was born and raised in Hawaii, where he began his veterinary journey as a kennel attendant at a local animal-care facility. He soon realized he wanted to do more to help pets, so he began his formal training at Washington State University where he majored in Zoology, then obtained his DVM at Ohio State University's College of Veterinary Medicine.
After two years building a Las-Vegas-based facility and hand-picking staff, Dr. Jason opened Aloha Animal Hospital in late 2007 with his wife, Dr. Jamie Sulliban. Remaining true to his island roots, Dr. Sulliban and his team dedicate attention to animal medicine for both traditional and exotic pets. He enjoys many aspects of his career — meeting new families, daily problem-solving, and working closely with his team to provide compassionate animal care. Dr. Sulliban is a member of the Nevada Veterinary Medical Association (NVMA), the Association of Reptilian and Amphibian Veterinarians (ARAV), and Aloha Animal Hospital is a member of the American Animal Hospital Association (AAHA).
In his spare time, he trains in Brazilian jiu-jitsu (he is a purple belt) to keep in shape and relive stress. He is also rebuilding a '66 VW bug. Dr. Sulliban and his wife have three sons — Max, Alex, and Colby — and he spends much time coaching soccer and wrestling at their school. Read on for our Q&A with Dr. Sulliban.
Why did you decide to become a veterinarian?
Aside from the fact that I love animals, I also really enjoy seeing the human animal bond flourish. I am helping the other members of the family.
What do you enjoy most about being a veterinarian?
All of it. I enjoy all of it, every day. I am so lucky.
What makes you unique in your field?
I would love to say it's my super smarts or expert surgical skills. But while they're great, it's probably my ability to relate with clients, helping them to understand difficult information [and] enabling them to make the best decision for their loved ones.
What does it mean to you to be nominated for this award?
It means a great deal!  I give 100 percent every day, award or no award. I am not going to lie, however; it feels really nice to be nominated.
What would you like to say to your clients and community who nominated and voted for you?
I would say thank you very much and I will continue to give you may all to maximize the great time you can spend with your beloved pets.
If you win the contest with the most votes, how do you plan to use your $1,000 prize?
I will start a pets-in-need program to help owners afford care.
Fun Pet Fact:
"The true danger of this field is constant furry family member additions," says Dr. Jason Sulliban jokingly. He and his family have several pets, which fortunately all get along well with one another: four dogs — three pit bulls and one Chihuahua (all are rescues from the SPCA where both Jason and Jamie do volunteer work), a pair of cats that had been dropped off at the clinic, a parrot, and many koi fish.
If you enjoyed reading about Dr. Sulliban, continue to visit our blog, where we will share in-depth Q&A sessions held with the remaining finalists. Learn more about the My Vet's the Best Contest by clicking here. You may vote for Dr. Sulliban or any of the other finalists once a day through Thursday, June 15th, 2017 on the Pets Best Facebook page.