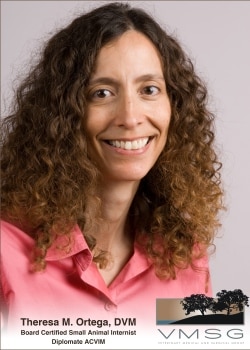 Meet Dr. Theresa Ortega, one of the six finalists in the Pets Best Summer 2014 round of the My Vet's the Best Contest. Pets Best, a leading U.S. pet health insurance agency developed the contest to recognize the country's best veterinarians. Each year, thousands of veterinarians receive nominations from grateful pet owners.
Dr. Ortega has a strong connection to the University of California, Davis. Receiving both her undergraduate degree in Biological Sciences and veterinary degree from UC Davis, two years later, she also completed her internal medicine residency training there in 1995. After finishing her residency, she remained at UC Davis as a faculty replacement for the Small Animal Medicine service. She then spent time serving as an internal medicine consultant for Veterinary Centers of America (VCA) hospitals in several California locations.Dr. Ortega has been a part of the Veterinary Medical and Surgical Group staff for 17 years. Small animal internal medicine is her area of expertise and her residency clinical research focused on canine Cushing's disease.
Outside of work, Dr. Ortega enjoys active lifestyle activities including gardening, hiking, music, camping, running and cycling.
To vote for Dr. Ortega or any of the finalists, click here. Vote once a day through August 10th, 2014.
To nominate your favorite veterinarian for future rounds of the My Vet's the Best Contest, click here.
To learn more about the My Vet's the Best Contest, click here.