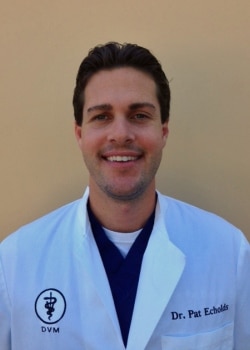 Meet Dr. Pat Echolds, one of the six finalists in the Pets Best Summer 2014 round of the My Vet's the Best Contest. Pets Best, a leading U.S. pet health insurance agency developed the contest to recognize the country's best veterinarians. Each year, thousands of veterinarians receive nominations from grateful pet owners.
Dr. Echolds grew up in Yorba Linda, California and at a young age, felt the calling to work with animals for the rest of his life. With an undergraduate degree in biology and chemistry from the University of San Diego, he then attended the youngest and most modern vet school in the country, Western University of Health Sciences in Pamona, California. In 2007 Dr. Echolds graduated with honors, and was part of the first graduating class of WesternU.
Upon entering the working world, he began his first five years of practice in San Clemente, California, mainly managing medical and surgical cases for cats and dogs. His desire to open his own clinic became stronger than ever. Dr. Echolds' dream came true in 2011 when he opened his own state of the art vet practice, Rancho Niguel Animal Hospital. With strong principles of personalized care and ethical service, his animal hospital also has what he calls a "good, old fashioned family doctor practice" feel to it. His passion for animals goes beyond his clinic and into local shelters for cats and dogs.
To vote for Dr. Echolds or any of the finalists, click here. Vote once a day through August 10th, 2014.
To nominate your favorite veterinarian for future rounds of the My Vet's the Best Contest, click here.
To learn more about the My Vet's the Best Contest, click here.