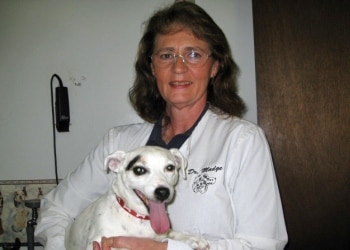 Meet Dr. Madge Smith, one of the six finalists in the Pets Best Summer 2014 round of the My Vet's the Best Contest. Pets Best, a leading U.S. pet health insurance agency developed the contest to recognize the country's best veterinarians. Each year, thousands of veterinarians receive nominations from grateful pet owners.
Dr. Smith is a 1976 graduate of Purdue University School of Veterinary Medicine, and opened her family owned practice, Smith Veterinary Hospital, more than 30 years ago in Berne, Indiana. Focusing on small animal medicine and surgery, Dr. Smith has 38 years of experience and strives to educate pet owners about their animal's health needs.
Her family practice includes her husband, the "Horse Doctor", as well as two of their four daughters. A proud grandmother of 8, Dr. Smith also has a soft spot for her Bernese mountain dog named Aspen, and her two cats, Bootstrap and Balbosa.
When asked what she likes most about her practice she says, "The awesome team I work with and the stellar clients and patients that come here."
To vote for Dr. Smith or any of the finalists, click here. Vote once a day through August 10th, 2014.
To nominate your favorite veterinarian for future rounds of the My Vet's the Best Contest, click here.
To learn more about the My Vet's the Best Contest, click here.