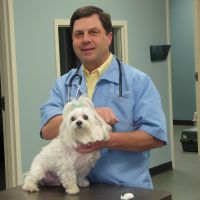 Meet Dr. James Beeson, one of the six finalists in the Pets Best Summer 2014 round of the My Vet's the Best Contest. Pets Best, a leading U.S. pet health insurance agency developed the contest to recognize the country's best veterinarians. Each year, thousands of veterinarians receive nominations from grateful pet owners.
Dr. Beeson is a graduate of the University Of Tennessee College Of Veterinary Medicine. With a deep connection to North Carolina, he began practicing in Winston-Salem after graduating from vet school. In 1987 he made the move to the quaint town of Advance, North Carolina and opened his own practice. Leading the team at Village Way Veterinary Hospital for 27 years, Dr. Beeson is also known in his community as a very caring, veterinarian willing to go above and beyond for his customers and patients.
When he's not working him and his wife enjoy watching their three sons play baseball. He also enjoys playing golf and hanging out with his family pets, two cats and one dog.
To vote for Dr. Beeson or any of the finalists, click here. Vote once a day through August 10th, 2014.
To nominate your favorite veterinarian for future rounds of the My Vet's the Best Contest, click here.
To learn more about the My Vet's the Best Contest, click here.